TAKIN MY TIME Tour 1973-74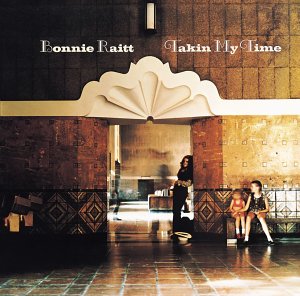 | | | | | | | | | |
| --- | --- | --- | --- | --- | --- | --- | --- | --- |
| DATE | VENUE | MAIN BAND | SUPPORT | SUPPORT | AD | TICKET | PICTURES | TAPE |
| | | | | | | | | |
| January 26, 1974 | Palace Concert Theater, Providence | Bonnie Raitt | Roomful of Blues | | YES | | YES | Recorded |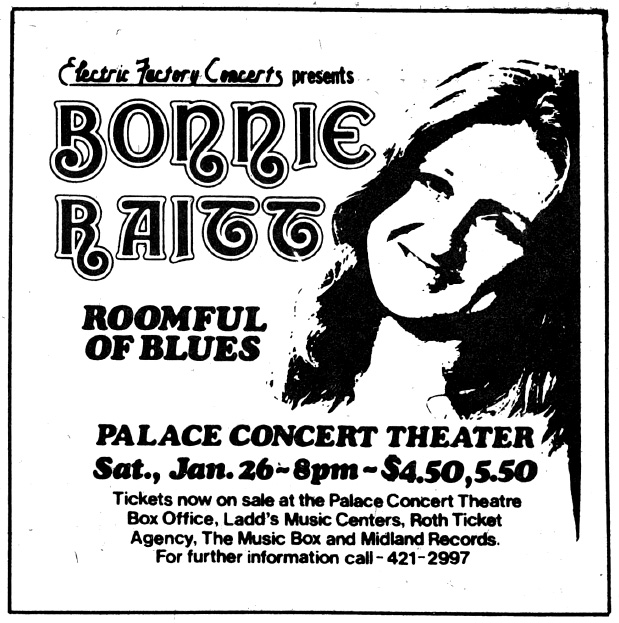 ad courtesy of Paul Fernandes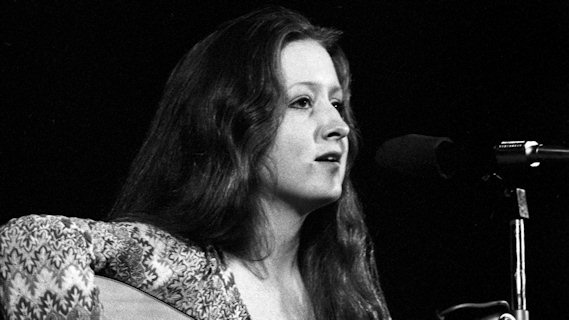 SET LIST
Special Delivery Blues
I Thought I Was A Child
Write Me A Few Of Your Lines
I Feel The Same
Women Be Wise
Nothing Seems To Matter
Baby, I Love You
Give It Up Or Let Me Go
Don't Fight It
Since I Fell For You
Guilty
Too Long At The Fair
Love Has No Pride
Bluebird
Love Me Like a Man
THE BAND
Bonnie Raitt (guitar, vocals),
David Maxwell (piano), Freebo (bass, kazoo), Dennis Whitted (drums)
Article borrow from Wolfgangs Vault
Bonnie Raitt is one of the most enduring female artists in rock 'n' roll, with a career that has spanned decades. In 1970, the 65-year-old Cambridge blues promoter and manager, Dick Waterman, an important figure in the blues revival of the 1960s, recognized Bonnie Raitt as an aspiring musician on the Boston area folk and blues scene. With Waterman's encouragement, Raitt began performing alongside established blues legends such as Howlin' Wolf, Sippie Wallace, and Mississippi Fred McDowell, and in late 1970, while opening for Fred McDowell at the Gaslight Cafe in New York, aNewsweek Magazine reporter caught Raitt's performance and began to spread the word. Record company scouts began attending her shows and she soon entered into a relationship with Warner Brothers, who released her debut self titled album in 1971.
Raitt's critical stature, both as an interpreter and as a guitarist, continued to grow but sales remained modest. Her second album, Give It Up, released in 1972 and 1973'sTakin' My Time were also both met with critical acclaim, but as strong as these albums were, Raitt remained an anomaly because at the time, very few women had strong reputations as guitarists. On these first three albums, Raitt struck a near perfect balance between bawdiness, sincerity, and fun, which was even more obvious in her live performances. She was building a solid reputation with her blend of blues, rock and folk music, while creating a style uniquely her own.
Which brings us to this January 1974 performance, recorded on the Takin' My Time tour at Providence, Rhode Island's Palace Theater, headlining a bill with Roomful of Blues. With her longtime cohort, Freebo on bass, she was now working with her first band, featuring Dennis Whitted on drums, who would anchor Raitt's bands for years to come and the phenomenal piano player, David Maxwell, who had performed with the likes ofFreddie King, Otis Rush and James Cotton. Raitt focuses on the strongest material from her first three albums, with several choice covers thrown in for good measure.
The set opens with Sippie Wallace's "Special Delivery Blues" followed by a lovely cover ofJackson Browne's "I Thought I Was A Child, recently recorded for her Takin' My Timealbum. The new album is also well represented by a smoldering performance of Chris Smither's "I Feel The Same," Fred McDowell's "Write Me A Few Of Your Lines/Kokomo Blues," which features some of Raitt's trademark slide guitar work, and a unique interpretation of Randy Newman's "Guilty."
Over the course of the show, Raitt also dives deep into the material on 1972's Give It Up. Highlights include the New Orleans style blues of "You Got To Know How," and "Nothng Seems To Matter," which serves as a showcase for pianist, David Maxwell, and features a humorous kazoo solo from Freebo. From that same album, Raitt delivers her original blues, "Give It Up Or Let Me Go," which again showcases her talents on bottleneck slide and features prodigious piano work from Maxwell. Compelling versions of "Too Long At The Fair" and the woeful Eric Kaz/Libby Titus classic, "Love Has No Pride" are also included in this set
Raitt ventures back to material from her 1970 debut as well, with a lovely take on Bud Johnson's "Since I Fell For You," and a tasteful cover of Stephen Stills' Buffalo Springfield era classic, "Bluebird." Sippie Wallace's "Women Be Wise" and Tommy Johnson's "Big Road" sound better than ever with this band, with the latter featuring brief but impressive solo spots from all.
Two surprising covers also surface in this set, both reflecting Raitt's love of soul music. Raitt shines on both "Baby, I Love You," which stays close to Aretha Franklin's classic arrangement and on the deep groove of Wilson Pickett's "You've Got To Feel It," that must have had this audience dancing in the aisles.
With a few months of band performances behind her, Raitt seems more comfortable and confident. This performance is a fine example of Raitt broadening her musical palette and moving beyond the acoustic singer/songwriter stage of her early career.
CONCERT MEMORIES:
*Note: if you were there and would like to share your memories, pictures or tape please send it info@rirocks.net