WHEELS OF FIRE Tour 1968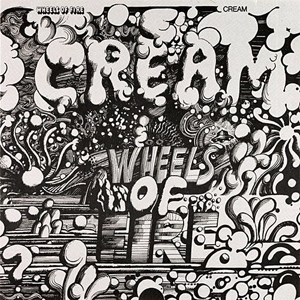 | | | | | | | | | |
| --- | --- | --- | --- | --- | --- | --- | --- | --- |
| DATE | VENUE | MAIN BAND | SUPPORT | SUPPORT | AD | TICKET | PICTURES | TAPE |
| | | | | | | | | |
| November 4, 1968 | RI Auditorium, Providence | Cream | Terry Reid | | YES | | YES | Recorded |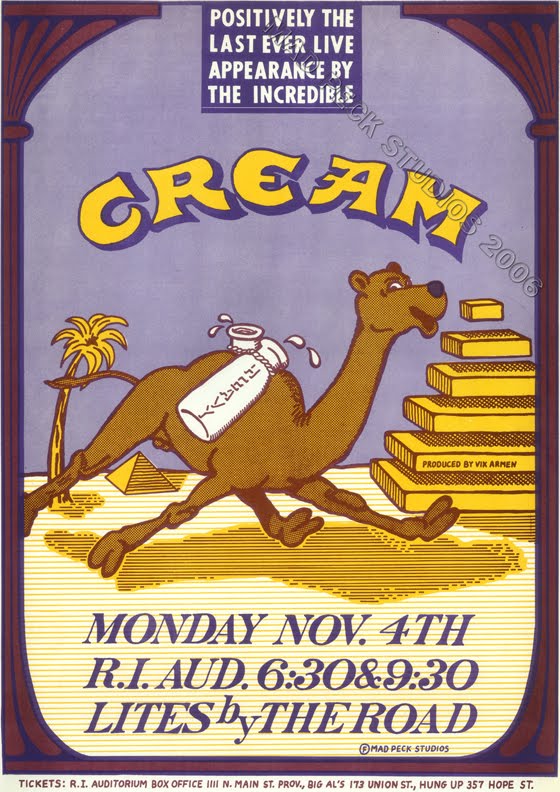 hand bill courtesy of http://www.madpeck.com
Eric Clapton
(vocals, lead guitar),

Jack Bruce

(vocals, bass guitar),

Ginger Baker

(drums)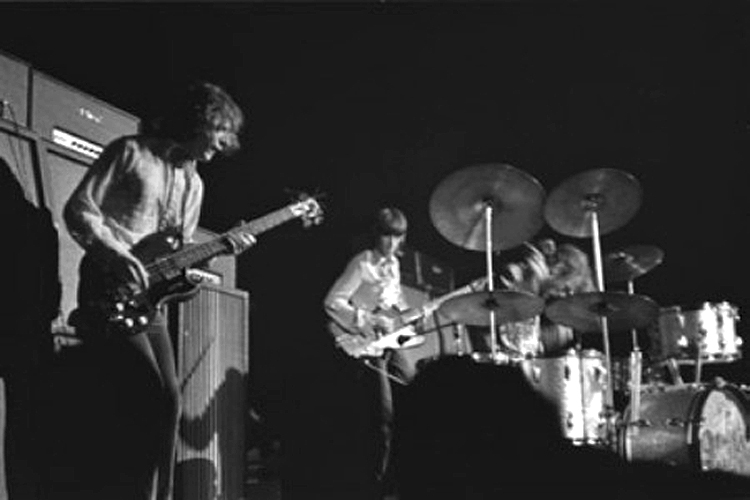 photo courtesy of Robert Corwin http://www.robertcorwin.com/index.html
Cream performed two shows at the Rhode Island Auditorium on November 4, 1968. The first show was at 6:30 The second show was at 9:30 and was cut short due to noise curfew.
This is the final US concert of the farewell tour. All the East Coast gigs were sold out so the promoter stacked one extra show. The only problem was that there was a 11.00pm noise curfew. By the time Cream hit the stage they only had 30 minutes. It was an unsatisfactory but, ironically fitting, end to this exploitative tour. Some of the audience were further disappointed by the 3 of them having a cream pie fight to celebrate the end of the band.

Despite the finality of the performance they actually turn on a reasonable "Spoonful" and an energetic "Toad". During "Spoonful" Jack loses an amp, Eric comps and then starts playing with Ginger and Jack rejoins at reduced volume.
Set List
First Show
White room

Politician

I'm So Glad

Crossroads

Toad
Set List
Second Show
CONCERT MEMORIES:
*Note: if you were there and would like to share your memories, pictures or tape please send it info@rirocks.net

By Bill Lord
I was in the fourth row at the second show of Cream, November 4, 1968 at the Rhode Island Auditorium in Providence, RI, USA.
The old Rhode Island Auditorium was a cavernous hockey rink with the stage at center ice and folding chair seats on the floor. It was not an ideal concert venue, but the band played so loud bad acoustics were not particularly noticeable (at least not where I sat). As in other shows, Clapton was to the right as you faced the stage, Baker in center, Jack Bruce on the left. I can't really remember what any of the band wore. I do remember Ginger's hair pulled back in a pony-tail and Ginger's fluorescent spray-paint drumheads. I wasn't aware at the time that it was a shortened set or any reason for it, but I do remember thinking as I left that they hadn't played very many songs.
By John Allen
I was 12 years old in 1968 and was living in Barrington, R.I. I bought tickets for two front row center seats for my mom and I to attend the early (6:30) show. My recollection is that the tickets were $6.00 each. There was a crowd of photographers around the stage and I managed to crawl up onto the stage for part of the show. There was a psychedelic light show with moving "amoeba" images on screens above the stage. It was my first rock concert.