FRANK ZAPPA & THE MOTHERS OF INVENTION
WE'RE ONLY IN FOR THE MONEY Tour 1968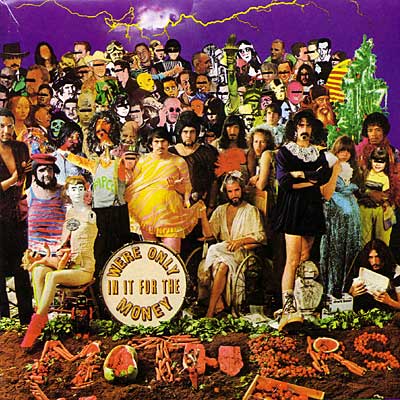 | | | | | | | | | |
| --- | --- | --- | --- | --- | --- | --- | --- | --- |
| DATE | VENUE | MAIN BAND | SUPPORT | SUPPORT | AD | TICKET | PICTURES | TAPE |
| | | | | | | | | |
| August 8, 1968 | RI Auditorium, Providence | Frank Zappa & The Mothers | Vanilla Fudge | Beacon St. Union | YES | | | |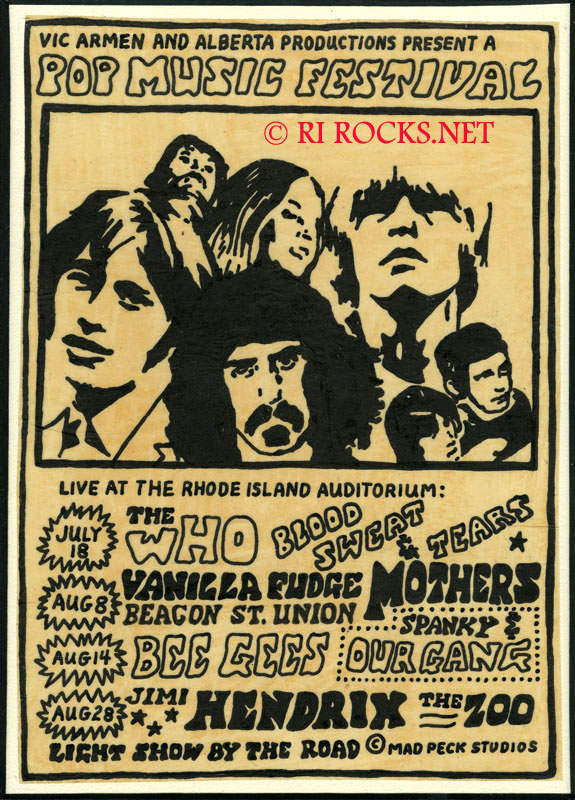 hand bill courtesy of http://www.madpeck.com
THE BAND
Frank Zappa (guitar, piano, vocals, voices),
Ian Underwood (piano, keyboards, voices, woodwind), Bunk Gardner (woodwind)
Ray Collins (lead vocals, harmonica, tambourine, finger cymbals, bobby pin & tweezers),
Roy Estrada (electric bass, vocals), Don Preston (keyboards),
Euclid James "Motorhead" Sherwood (baritone saxophone, soprano saxophone, voices),
Arthur Dyer Tripp III (drums), Jimmy Carl Black (trumpet, drums, vocals, indian)
CONCERT MEMORIES:
*Note: if you were there and would like to share your memories, pictures or tape please send it info@rirocks.net
Based on recollections from Ed Lyons.......
They began by singing Hungry Freaks Daddy and I Ain't Got No Heart, then a version of My Boyfriend's Back. I then recall a bunch of improv music and antics, but don't recall what other songs were played until the very long instrumental medley they finished with, very much like the one on Ahead of Their Time (from King Kong on), as I do recall some familiar tunes and guitar solos. Since they had only three albums at the time, I had little frame of reference for identifying what came between the first songs and medley.
Thank you Ed!