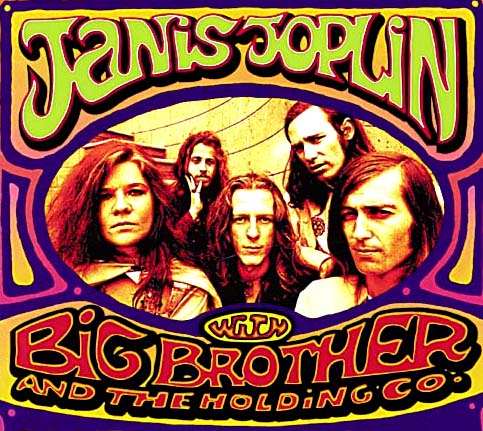 CHEAP THRILLS Tour 1968-69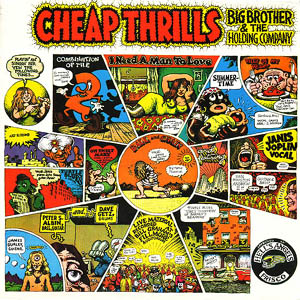 | | | | | | | |
| --- | --- | --- | --- | --- | --- | --- |
| DATE | VENUE | MAIN BAND | AD | TICKET | PICTURES | TAPE |
| | | | | | | |
| November 8, 1968 | Rocky Point Palladium, Warwick | Janis Joplin w/ Big Brother & The Holding Company | YES | | | |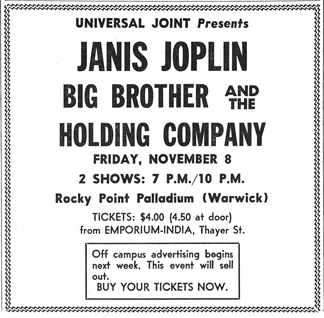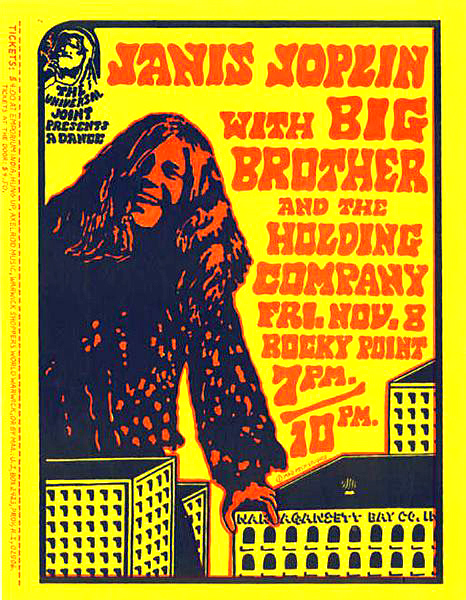 hand bill courtesy of http://www.madpeck.com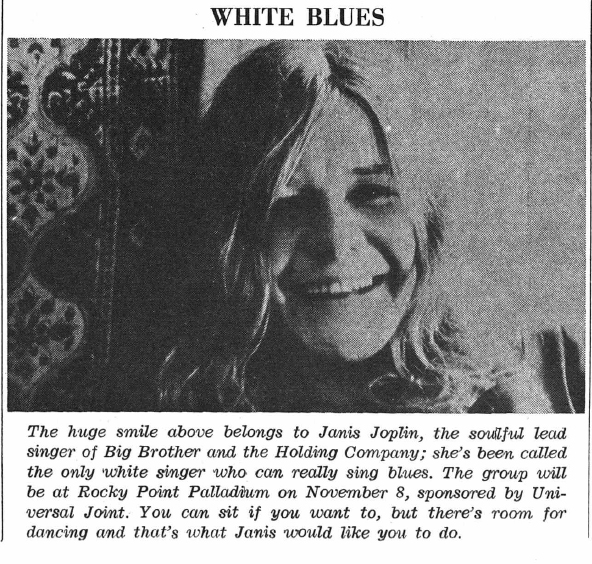 THE BAND
Janis Joplin (vocals),
Sam Andrew (guitar, vocals), James Gurley, (bass, vocals),
Peter Albin, (bass), David Getz, (drums)
CONCERT MEMORIES:
I was at this show. It was just a couple of weeks before my 20th birthday. As I remember, it was not well attended, maybe 200 folks, and I'm being generous. It did present a great opportunity to get very close to the stage, like right in front of it. This was in the days when Janis was bringing her bottle of Southern Comfort on stage with her. It was not her best performance, but still memorable and I'm happy to have the memories.
Regards,
Chris Ryan
New Orleans
Hi
Great site.
I attended the Janis concert at Rocky Point--I believe it was part of some sort of expo sponsored by a radio station. Other bands on the stage were Sly and the Family Stone and my band Whit Wash (former Ascots).
Another bit of info----The Ascots ,of which I was bass player, were one of the opening acts at RI auditorium for the Herman's Hermits/ Who/ Chad and Jeremy concert August 14,1967
Thanks for the memories
*Note: if you were there and would like to share your memories, pictures or tape please send it info@rirocks.net