Newport Jazz Festival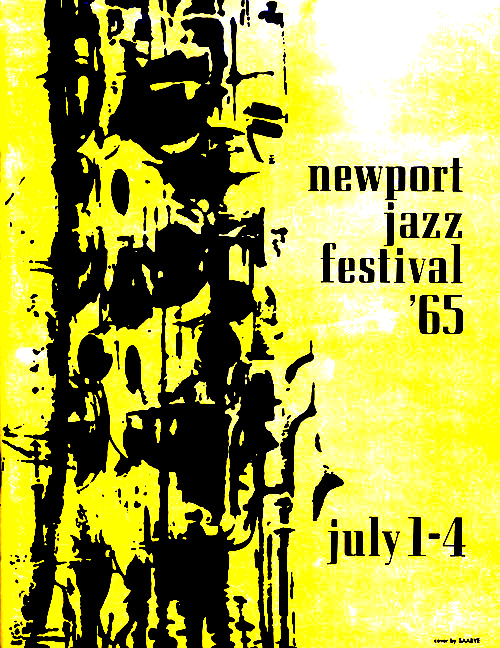 1965
| | | | | | | | | |
| --- | --- | --- | --- | --- | --- | --- | --- | --- |
| | 1965 | MAIN BAND | SUPPORT | SUPPORT | AD | TICKET | PICTURES | TAPE |
| Newport Jazz Festival, Festival Field | July 1, 1965 | Joe Williams | Les McCann Trio | Dizzy Gillespie Quintet | | | | |
| Newport Jazz Festival, Festival Field | July 2, 1965 | John Coltrane Quartet | Thelonious Monk Quartet | Miles Davis Quintet | | | | |
| Newport Jazz Festival, Festival Field | July 3, 1965 | Duke Ellington Orchestra | Earl "Fatha" Hines | Herbie Mann Octet | | | | |
| Newport Jazz Festival, Festival Field | July 4, 1965 | Frank Sinatra & Count Basie | Stan Getz Quintet | Wes Montgomery | | | | |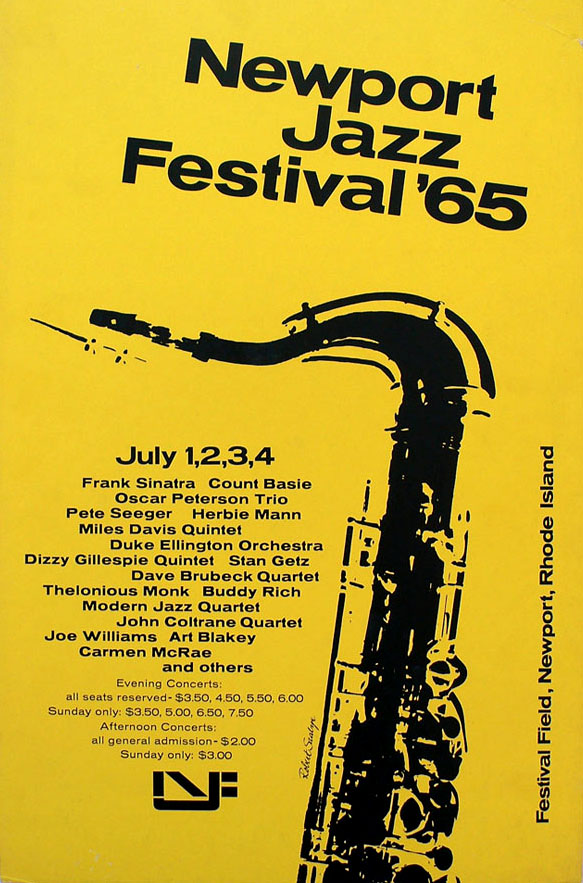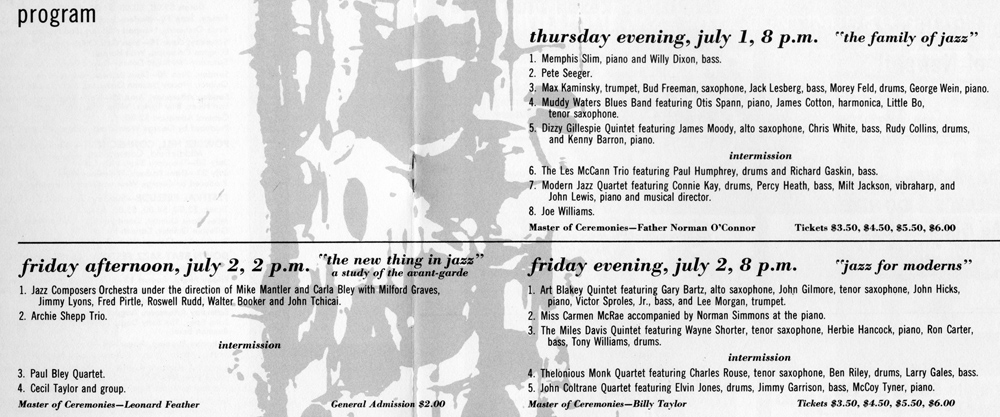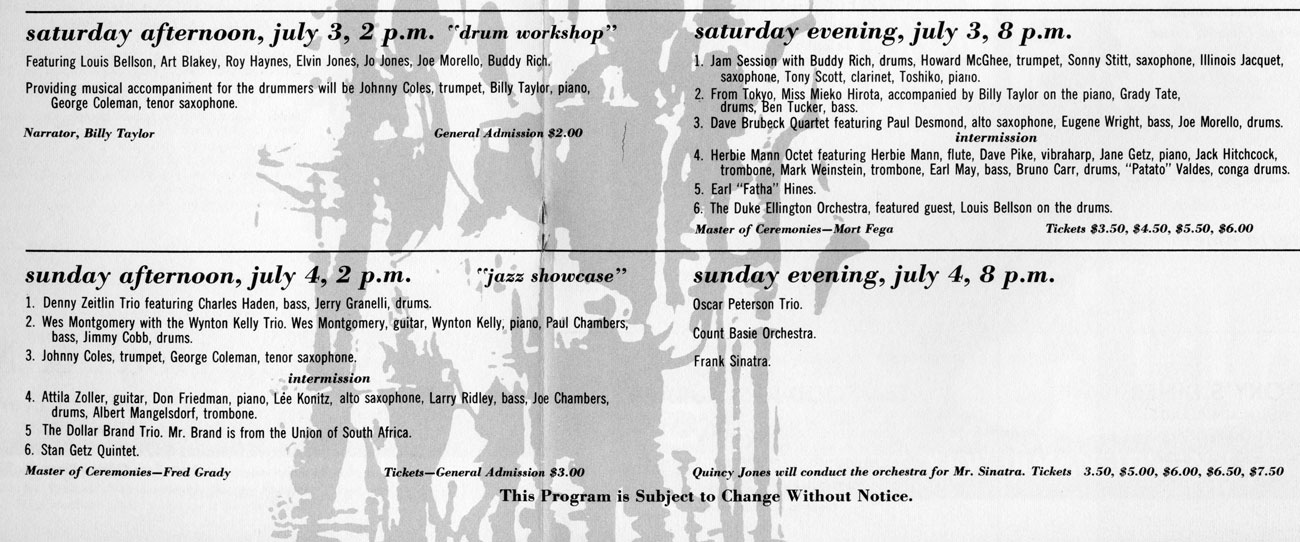 Newport Jazz Festival Lineup 1965


THURSDAY - "THE FAMILY OF JAZZ"

· Memphis Slim, piano and Willy Dixon, bass.
· Pete Seeger
· Max Kaminsky, trumpet, Bud Freeman, saxophone, Jack Lesberg, bass,Morey Feld, drums, George Wein, piano.
· Muddy Waters Blues Band
featuring
Otis Spann, piano, James Cotton, harmonica, Little Bo, tenor saxophone.

· Dizzy Gillespie Quintet
featuring
James Moody, alto saxophone, Chris White, bass, Rudy Collins, drums, Kenny Barron, piano.


· The Les McCann Trio
featuring
Paul Humphrey, drums and Richard Gaskin, bass.

· Modern Jazz Quartet
featuring
Connie Kay, drums, Percy Heath, bass,Milt Jackson, vibraharp,
John Lewis, piano and musical director.

· JOE WILLIAMS
FRIDAY AFTERNOON - "THE NEW THING IN JAZZ"

· Jazz Composers Orchestra
under the direction of
Mike Mantler and Carla Bley
with
Milford Graves
,
Jimmy Lyons
,
Fred Pirtle
,
Roswell Rudd
,
Walter Booker
, and
John Tchicai
.
· Archie Shepp Trio
· Paul Bley Quartet
· Cecil Taylor and Group
FRIDAY EVENING - "JAZZ FOR MODERNS"

· Art Blakey Quintet
featuring
Gary Bartz, alto saxophone, John Gilmore, tenor saxophone, John Hicks, piano,
Victor Sproles, Jr., bass, and Lee Morgan, trumpet.
· Miss Carmen McRae
accompanied by
Norman Simmons at the Piano.
· The Miles Davis Quintet
featuring
Wayne Shorter, tenor saxophone,Herbie Hancock, piano, Ron Carter, bass, Tony Williams, drums.

· Thelonious Monk Quartet
featuring
Charles Rouse, tenor saxophone, Ben Riley, drums, Larry Gales, bass.

· John Coltrane Quartet
featuring
Elvin Jones, drums, Jimmy Garrison, bass, McCoy Tyner, piano.
SATURDAY AFTERNOON - "DRUM WORKSHOP"

· Featuring Louis Bellson, Art Blakey, Roy Haynes, Elvin Jones, Jo Jones, Joe Morello, Buddy Rich.

· Johnny Coles, trumpet, Billy Taylor, piano, George Coleman, tenor saxophone.
SATURDAY EVENING
· Jam Session with Buddy Rich, drums, Howard McGhee, trumpet, Sonny Stitt, saxophone,
Illinois Jacquet, saxophone, Tony Scott, clarinet, Toshiko, piano.

· From Tokyo, Miss Mieko Hirota, accompanied by Billy Taylor on the piano, Grady Tate, drums, Ben Tucker, bass.

· Dave Brubeck Quartet
featuring
Paul Desmond, alto saxophone, Eugene Wright, bass, Joe Morello, drums.

· Herbie Mann Octet
featuring
Herbie Mann, flute, Dave Pike, vibraharp, Jane Getz, piano, Jack Hitchcock, trombone, Mark Weinstein, trombone, Earl May, bass, Bruno Carr, drums, "Patato" Valdes, conga drums.
· Earl "Fatha" Hines
· The Duke Ellington Orchestra,
featured guest,
Louis Bellson on the drums.
SUNDAY AFTERNOON - "JAZZ SHOWCASE"
· Denny Zeitlin Trio
featuring
Charlie Haden, bass, Jerry Granelli, drums.
· Wes Montgomery with The Wyton Kelly Trio.
Wes Montgomery, guitar, Wynton Kelly Trio , piano,
Paul Chambers, bass, Jimmy Cobb, drums.
· Johnny Coles, trumpet, George Coleman, tenor saxophone.
· Attila Zoller, guitar, Don Friedman, piano, Lee Konitz, alto saxophone, Larry Ridley, bass, Joe Chambers, drums, Albert Mangelsdorf, trombone.
· The Dollar Brand Trio
· Stan Getz Quintet
Program and festival lineup courtesy of http://newportjazzfest.net/
CONCERT MEMORIES:
*Note: if you were there and would like to share your memories, pictures or tape please send it info@rirocks.net