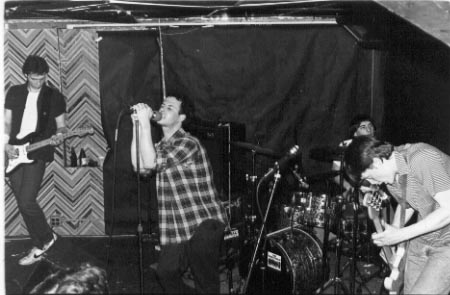 Article borrowed from (http://en.wikipedia.org/wiki/The_Proletariat)
The Proletariat was a punk band from Fall River, Massachusetts. They were active during the 1980s in the Boston Hardcore scene, despite their recorded output having a decidedly non-hardcore sound; The Proletariat show more strongly the musical influences of bands such as Wire, and Gang of Four in their angular guitar sound and Marxist-themed lyrics.
The Proletariat gained notice in the 80s hardcore scene with obscene Sex Pistols covers, eventually melding the styles of their heroes, the Pistols and Gang of Four. In 1981 they released a 7-song demo tape they called Distortion, which became popular with DJs and critics. Several songs from Distortion would end up on their first LP, and they gained wider exposure to the hardcore audience on the This is Boston, Not L.A. and Unsafe at Any Speed compilations that were put out by the Modern Method label.
The Proletariat played vicious Hardcore fused with a jagged Gang of Four/Killing Joke edge. Frontman Richard Brown wrote poetically oblique lyrics with a distinct Marxist bent - part Burroughs, part Mao.

Soma Holiday

, their '83 LP, was way ahead of its time.
The band was made up of the British-sounding American singer Richard Brown, bassist Peter Bevilacqua, drummer Tom McKnight, and guitarist Frank Michaels. Their sound was characterized by drums holding a militaristic steadiness while guitars alternated between jarring upstrokes and overdriven chords.
The Proletariat were a Hardcore band that had a

backbeat

you could dance to, the most

slam-dancable

—they had that serious marching beat down. They were given the hardcore tag because they wrote short songs and kinda fit in.
The 1983 release of their first LP Soma Holiday was hailed by Robert Christgau as "The hardcore debut of 1983" even as Christgau noted their sound was not hardcore per se.[2]Named for the drug in Aldous Huxley's Brave New World, the album demonstrates the band's artpunk roots, with lyrics examining social issues from Brown's distant, Marxistperspective, critiquing capitalism without embracing determinist revolutionary dogma. The band itself were actually members of the working class, most of whom dropped out of college to drive trucks and work elsewhere.
In 1985, the band released a 7" and a second full length LP. Indifference, on Homestead Records, showed the band's softer side, including the layering of melodies onto the songs, with an appearance by Roger Miller of Mission of Burma playing piano on "An Uneasy Peace." They also brought in Laurel Bowman, whose soft-toned voice contrasted with Brown's (he would later find himself taking over vocals completely in a late, unrecorded incarnation of the band).
... the trio harmonics here are as wide at the butt as at the neck. 'N that's as OK as the occasionally whiny Angloist vocals (by a since departed windbag) are not.
After a hiatus, Richard, Peter, and Frank, with a new drummer, formed a new band called Churn, which disbanded in 1997. All recorded Proletariat material has been compiled on a double CD collection on Taang! Records.
| | | | | | | | | |
| --- | --- | --- | --- | --- | --- | --- | --- | --- |
| DATE | VENUE | MAIN BAND | SUPPORT | SUPPORT | AD | TICKET | PICTURES | TAPE |
| June 10, 1981 | Simon's Club, Pawtucket | Visitors | Proletariat | | | | | |
| June 26, 1981 | Simon's Club, Pawtucket | Circle Jerks | Proletariat | | | | | |
| July 3, 1981 | Simon's Club, Pawtucket | Black Flag | Proletariat | | | | | |
| July 17, 1981 | Simon's Club, Pawtucket | Lou Miami & the Kozmetix | Proletariat | | | | | |
| July 18, 1981 | Simon's Club, Pawtucket | Felbs | Proletariat | | | | | |
| July 25, 1981 | Harpo's Club, Newport | Probers | Proletariat | | | | | |
| July 30, 1981 | Harpo's Club, Newport | Thrashers | Proletariat | | | | | |
| August 1, 1981 | Simon's Club, Pawtucket | Johnny Thunders | Proletariat | | | | | |
| August 2, 1981 | Simon's Club, Pawtucket | Gluons | Proletariat | | | | | |
| August 7, 1981 | Simon's Club, Pawtucket | Fast | Proletariat | | | | | |
| August 14, 1981 | Lupo's Heartbreak Hotel | Dead Boys | Proletariat | | | | | |
| August 21, 1981 | Simon's Club, Pawtucket | Mission Of Burma | Proletariat | | | | | |
| August 14, 1981 | Lupo's Heartbreak Hotel | Dead Boys | Proletariat | | | | | |
| August 28, 1981 | Blitz Club, Providence | Detectives | Proletariat | | | | | |
| September 6, 1981 | Simon's Club, Pawtucket | Mintz | Proletariat | | | | | |
| September 22, 1981 | Harpo's Club, Newport | Gluons | Proletariat | | | | | |
| October 17, 1981 | Harpo's Club, Newport | Stains | Proletariat | | | | | |
| October 3, 1981 | Lupo's Heartbreak Hotel | Lou Miami & the Kozmetix | Proletariat | | | | | |
| May 1, 1982 | Living Room, Providence | Boy's Life | Proletariat | | | | | |
| May 26, 1982 | Living Room, Providence | GG Allin | Proletariat | | | | | |
| July 29, 1982 | Living Room, Providence | Flesheaters | Proletariat | | | | | |
| September 13, 1982 | Living Room, Providence | Bad Brians | Proletariat | | | | | |
| November 29, 1982 | Living Room, Providence | Possesions | Proletariat | | | | | |
| January 8, 1983 | Living Room, Providence | Mission of Burma | Proletariat | | | | | |
| February 5, 1983 | Living Room, Providence | Richard Hell & The Voidoids | Proletariat | | | | | |
| May 1, 1983 | Living Room, Providence | 7 | Proletariat | Rash of Stabbings | | | | |
| May 23, 1983 | Living Room, Providence | Circle Jerks | Proletariat | | | | | |
| July 8, 1983 | Living Room, Providence | Bad Brains | Proletariat | | | | | |
| August 21, 1983 | Living Room, Providence | Idle Rich | Proletariat | | | | | |
| October 1, 1983 | Living Room, Providence | Idle Rich | Proletariat | | | | | |
| November 3, 1983 | Living Room, Providence | Circle Jerks | Proletariat | | | | | |
| January 16, 1984 | Living Room, Providence | Idle Rich | Proletariat | | | | | |
| March 23, 1984 | Living Room, Providence | Alien Sex Fiend | Proletariat | | | | | |
| July 1, 1985 | Living Room, Providence | Rash Of Stabbings | Proletariat | | | | | |