(1972-1973)
HISTORY
THE POINT newspaper was started by Bill Heydt, Richard McCaffrey, Lou Papineau, Raye Shannon, Steven Sluiter & Palma Stone. It came out in June 1972 from the ashes of another newspaper called TUMBRIL in which Richard McCaffrey & Raye Shannon were also on staff.
THE POINT'S goal was to provide a true alternative to the established news sources and views of the state. It covered news in many ways - Congressional Review, an interpretation of our U.S.Congress in action; Point Blank, was a listing of news from all places and sources. It also included articles of special interest concerning the unusual and extraordinary issues of that time. Its focus was on the state of RI and the functions therein.
THE POINT was also a valuable source for The Arts, Music, Film, Theatre, Literature and other entertainment.
THE POINT was important because it established a model that would be adopted by later alternative papers like the Grassroots & The NewPaper.
THE POINT also establish the young upcoming photographer named Richard McCaffrey and writer Lou Papineau to go on very successful careers.
SOME COVER ISSUES FROM THE PAST
Click to read newspaper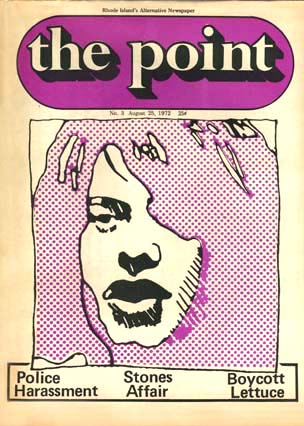 Click to read newspaper
Click to read newspaper
Click to read newspaper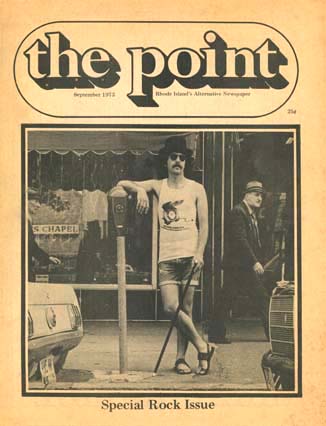 NEWSPAPER MEMORIES:
*Note: if you were there and would like to share your memories, pictures or tape please send it info@rirocks.net