History
Beginnings
Founded by two freshmen at Brown, David Borst and George Abraham, the first broadcast of the Brown Network was transmitted on November 30, 1936, from George Abraham's room, who originally conceived of the idea as a way to share his record collection and serve as a personal disk jockey for his friends. By the next year, he had installed wires through the trees on campus, assigning students in Slater, Sayles, Brunonia Hall, Littlefield, Caswell, and Hegeman to act as "section managers" who would receive the signal on their receiver and transmit it to the rest of the dorm. The equipment in his room expanded and he made his roommate move into the smaller of the two rooms in Slater, and Abraham moved his studying to the basement.
The New England Hurricane of 1938 destroyed most of the wires in the trees and Borst and Abraham were forced to move the wires into the steam tunnels beneath the campus. In February 1940, the Intercollegiate Broadcasting System was formed by 13 colleges, and it held its first meeting at Brown.
The '60s and '70s
In 1962, the Brown Broadcasting Service (BBS) was established as a separate entity from the University and in 1965, the BBS was donated a commercial FM license (WPFM) from The Outlet Company, a local department store chain and licensee of Provdence stations WJAR 920 AM and WJAR-TV channel 10 (NBC).
BBR was then split into two stations: WBRU-AM and WBRU-FM. WBRU-AM continued to broadcast locally as a carrier-current station (distributed through Brown's electrical system) and operated as the training station for WBRU-FM. In 1997, WBRU-AM split off and became Brown Student Radio (BSR) and started broadcasting on WELH-FM (88.1), a license owned by The Wheeler School. BSR currently broadcasts continuously online at http://www.bsrlive.com, and from 7 p.m. until 5 a.m. on WELH-FM. In 2003, BSR added a community radio element to its mission, incorporating community members as programmers and volunteers alongside students. During the 1970s, WBRU-FM broadcast at 20,000 watts on 95.5 FM and established itself as the principal progressive rock station in Rhode Island and southern New England. Attempts to boost the signal to 50,000 watts with a transmitter on the Sciences Library failed because of the interference it caused to sensitive scientific equipment, but the station was making plans to move its transmitter to the WPRO-FM transmitter location and increase power to 50,000 watts. This cannot be done until 2009 because public TV station WSBE-TV (channel 36)'s analog TV antenna currently occupies the tower space where WBRU plans to put its broadcast antenna. WSBE is locating its digital antenna at the WJAR-TV antenna tower in Rehoboth, MA.
In the '70s, the station switched format to Album-oriented rock.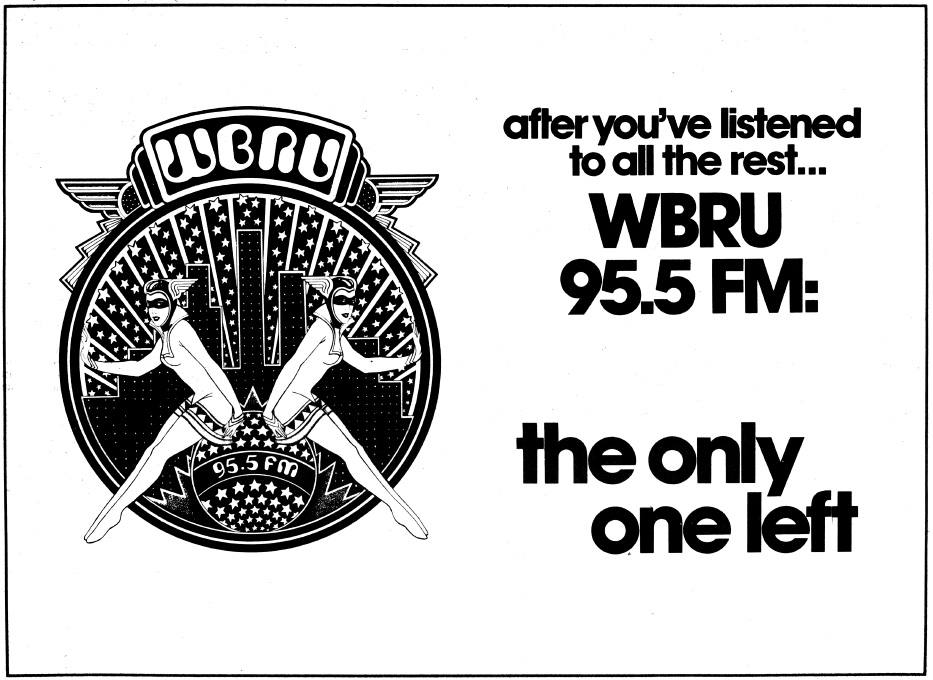 Switch to alternative format
In 1988, switched its format to modern rock and has remained in that format ever since, although with a lean towards playing newer artists and artists of the indie rock genre.
WBRU was also frequently named one of the best radio stations in the country by numerous trade magazines such as Billboard and Rolling Stone (which named it best radio station in the country in a medium size market three years in a row, the only radio station ever to achieve that).
The station is a huge part of the Providence music scene, and has been instrumental in introducing to the area alternative bands such as Nirvana, Pearl Jam and countless other important bands. It was among the first radio stations in the United States to play Ben Folds Five and Talking Heads. Kurt Cobain's last radio interview before his death was on WBRU.
Between April 17 and April 21, 2006, WBRU played their entire music catalog by title from A-Z, starting at 5:30 p.m. with "About a Girl" by Nirvana on the 17th and ending around 11:15 on the 21st with "Zombie" by The Cranberries. The songs ranged from new music (by such bands as Panic! at the Disco and Zox), 80's and 90's pop rarely played by the station (such as Right Said Fred's "I'm Too Sexy") and classic punk (i.e. Sex Pistols and New York Dolls).
On June 15, 2006, the station began streaming live online.
In April and May 2008, the station simulcasted eleven Boston Red Sox games for WEEI because the games ran at the same time as Boston Celtics playoff games.
World premieres
In 2006, WBRU was the first U.S. radio station to play "Supermassive Black Hole" by British band Muse and played the Beck single "Cellphone's Dead" before its release until Interscope Records filed a cease and desist order against the station.
In 2007, WBRU premiered the Smashing Pumpkins new single "Tarantula" only 15 minutes after KROQ world premiered it, becoming only the second station in the country to play it and the first to play it twice when they played it a second time immediately afterwards.
In 2008, WBRU was the first station in the country to air "I Will Possess Your Heart" by Death Cab For Cutie, which it did at approximately 1:30 p.m. on March 18, 2008.
In 2009, WBRU was the first station to debut Say Anything's new single "Hate Everyone." The single premiered at approximately 3:30 p.m. on August 17, 2009. The band's lead singer Max Bemis also premiered the song "Crush'd," playing acoustic in studio.
Governance
WBRU-FM is one of the few college radio stations that operates on a commercial basis. WBRU receives no funding from Brown University, while still being staffed by Brown students. There are several professional staff members who work with the students, but the station is jointly governed by a body called the Station Membership, which consists only of student members, and a Board of Directors, chiefly made up of station alumni along with the student General Manager.
Programming and formats
Today, WBRU is known for playing alternative rock, hip-hop and jazz music. Jazz is played during the early hours of weekday mornings with the exception of Tuesday mornings which is traditionally blues and Thursday mornings, when alternative hip hop was, for a time in late 2009, played in addition to jazz. The station's regular alternative format is played in place of jazz on Friday night/Saturday morning. Hip-hop, soul, gospel, funk, and other genres related is played all Sunday and branded as The 360 Black Experience. Reggae is played early Monday mornings. The rest of the time is devoted to alternative rock, with a strong leaning towards indie rock and adult album alternative.
The Sunday 360 Black Experience gained national attention in late 2007 when they interviewed Kanye West's mother Donda in what would be her final interview before her death.
Buddy FM prank
On March 29, 2006, WBRU claimed to be sold to Initech (a reference to the 1999 film Office Space) and changed the format of the station from alternative rock to "Buddy FM" - a variety hits format similar to the Jack format that had emerged at stations around the country. WBRU "signed off" on 4:57PM March 31, 2008, cutting out 10 seconds before the end of what they proclaimed to the final song played by the station, Good Riddance (Time of Your Life)" by Green Day and was replaced by dead air until 5:02PM, switching to "Buddy FM" with "The Sign" by Ace of Base. The hoax was complete with telling radio sweepers done in-studio. Some examples included: "Buddy FM: hits of the '70s '80s '90s and today... and the 1940s... and the 1850s...", and mentions that the station was "fun for the whole family" after which the station played "Me So Horny" by 2 Live Crew. Local network television affiliates WJAR and WLNE reported that WBRU had been sold without gaining confirmation about the story.
It was later found out to be an April fools joke (Lupo's Heartbreak Hotel owner Rich Lupo, Motif Magazine, Mighty Mighty Bosstones singer Dicky Barrett, and the Providence band Zox were in on the hoax), and, as of noon on April 1, 2006, WBRU had "regained" control of their radio station and began playing their normal playlist once again. Later that day, they confirmed that they were back to being WBRU, and that Buddy FM was no longer functioning.
This is not the first time that this April Fools joke had been pulled at the station, but it was the first time it had been taken to this extent. Previous April Fools Days featured similar pranks by WBRU DJs, announcing that the station would be switching formats, but the joke was usually only kept up for a couple of hours.