462 Main Street, Warren, RI 02885
(401) 245-9840‎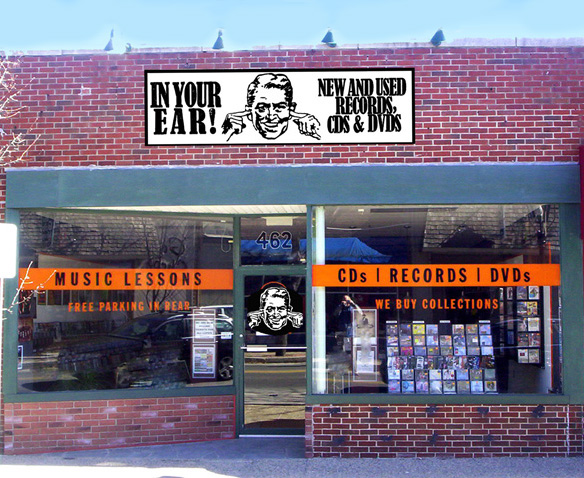 HISTORY
In Your Ear was started by Chris Zingg in 1985. Its first location was 171 Angell Street. That store ran from 1985 to 1990. After that it moved to 297 Thayer Street from 1990 to 1995 and then moved again to 286 Thayer Street from 1995 until 2004
In Your Ear finally found a store front located in scenic Warren, Rhode Island, In Your Ear houses a fantastic collection of records, 45s, CDs, DVDs, 8-Tracks, reel-to-reel tapes, as well as vintage turntables and stereo equipment. The store is bright and clean, and both the owner and his employees are friendly folks.
What I like best about In Your Ear is that they are constantly getting in new stock. Constantly. It pays to check in often (which I do). But what this constant influx of records, CDs, 8-tracks (and God knows what else) means is that it is almost impossible for the store to be kept to the same level of organization as found at Round Again. Yes, records are alphabetized by genre on the racks, but you'll find a lot of the really good stuff placed randomly in boxes on the floor. Strangely, I am okay with that. I think I actually even like it. For me it's fun to spot a new stack of records hiding in a corner of the store then checking to see what's in it. More often than not there will be something cool in there, and chances are it's in good shape and extremely reasonably priced.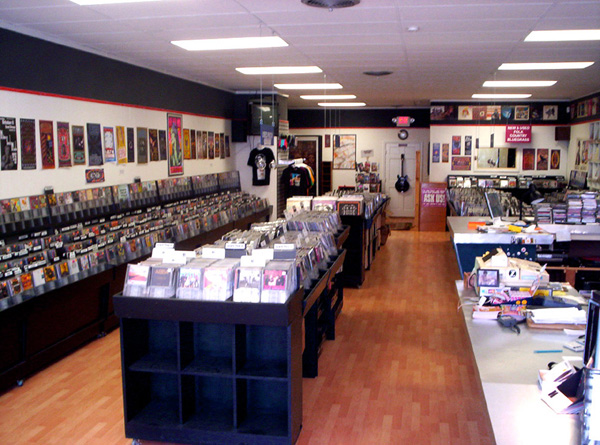 For nearly 20 years In Your Ear was a hot destination on Thayer Street in Providence (the main commercial area around Brown University). But then Thayer Street rents skyrocketed right around the time college students discovered a way to get music without paying for it, and what once was a prime location for a record store no longer made sense. So the store relocated to the mean streets of Barrington, Rhode Island (with a brief name change), and later moved to it's current location on Main Street in Warren.

I've picked up a lot of great records from In Your Ear over the years; stuff like a white label promo of Richard Lloyd's Alchemy (I just spotted a non-white label copy in one of the boxes on the floor for cheap if you're looking for one), an original pressing of Big Star's #1 Record, a minty fresh original U.S. pressing of Exile On Main St. with all the postcards intact, a near perfect six-eye stereo copy of Sketches Of Spain, and many other terrific records. They also stock new CDs and LPs and will special order anything you want. If you are looking for something specific, it pays to ask because they also have locations in Cambridge and Boston and might have it there.

In Your Ear is worth a special trip to Warren. While you're there you can grab a refreshing Del's Frozen Lemonade, a coffee at The Coffee Depot, or an award winning pizza across the street from Federal Hill Pizza. (I recommend skipping their next door neighbor Warren House of Pizza unless you enjoy being yelled at over a greasy, bland slice of pizza).

In Your Ear is definitely participating in Record Store Day. In addition to having limited edition RSD exclusives, all new CDs and vinyl will be 10% off, used vinyl will be 25% percent off, and used CDs will be buy one get one free. Weather permitting they will also be having a sidewalk sale featuring items from the mysterious In Your Ear "vault."
Editors note: This article and photos was copied from Flowering Toilet with all due respect and love to Peter Bilderback . Click on the link for Peter's original web posting.
http://floweringtoilet.blogspot.com/2011/04/in-your-ear-warren-rhode-island.html
Classic ads from back in the day!
1987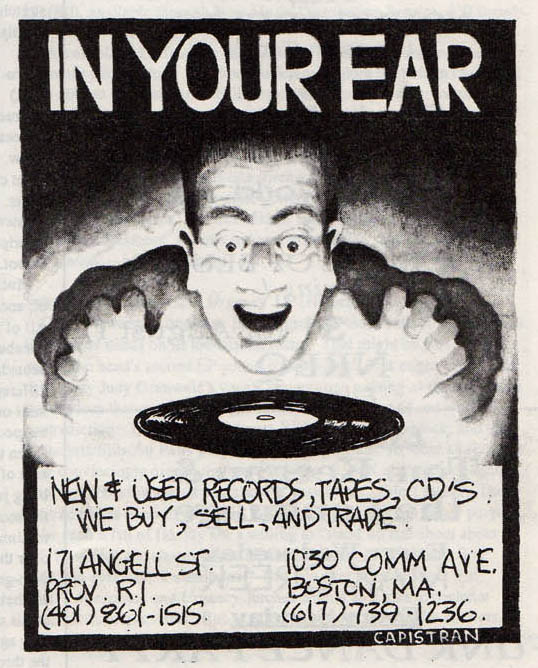 1987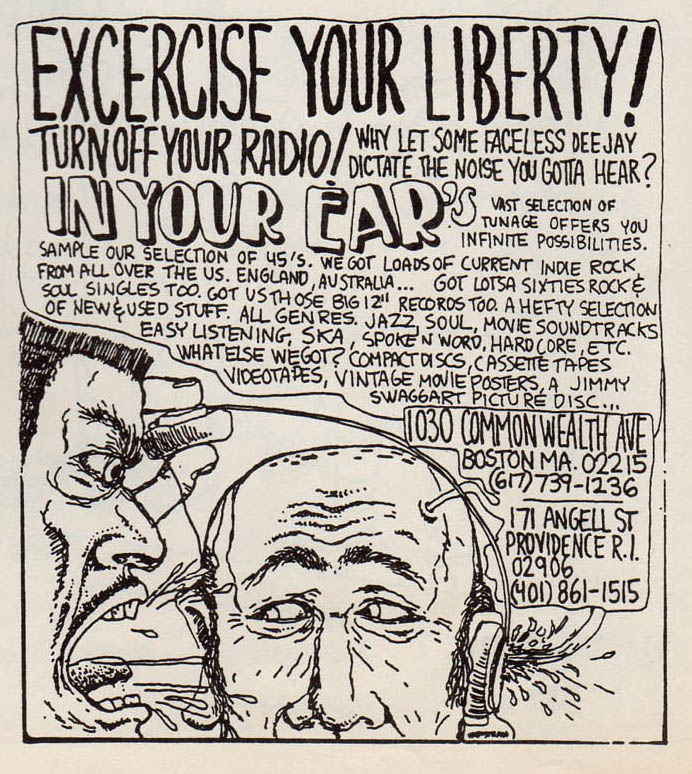 RECORD SHOP MEMORIES:
*Note: if you were there and would like to share your memories, pictures or tape please send it info@rirocks.net