CLOSED!
Ok it's official Luke's is rented to " The What Not Shoppe". One of the owners is a record collector and will be selling his collection along with some other merchandise. So expect records, cd's, cassettes. As they will also be specializing In antiques, general merchandise and furniture. Opening Feb 1,2013. They will buy, sell & trade. Follow the story on Facebook https://www.facebook.com/pages/Lukes-Record-Exchange/141053777171
Pawtucket music store closing
01:00 AM EDT on Tuesday, April 1, 2008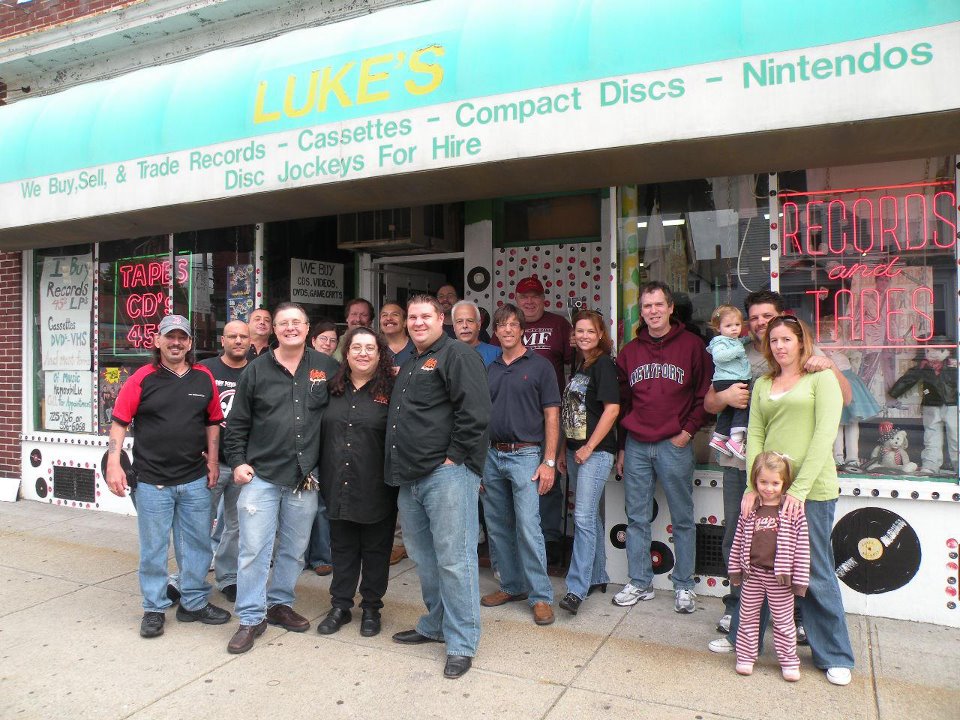 PAWTUCKET
The first thing that cut into Luke Renchan's record sales was Napster, the Internet music service that popularized file-sharing. The next thing was the iPod, which made downloaded music something portable you could plug in your ear.
But Renchan, who stocks CDs, DVDs and 8-track cassettes as well as LPs in his store, Luke's Record Exchange, at 393 Broadway, survived Napster and the iPod. His big seller was vinyl, which remained a staple of hip-hop DJs until 2004.
Then a New Zealand-based software company called Serato Audio Research released a computer program called ScratchLive, and Renchan was finished.
ScratchLive enables DJs to reproduce the sound of a vinyl LP being scratched without actually scratching it. A CD or computer hard drive containing digital music files can be used. The program makes both formats sound just like a long-playing record.
For more than 35 years, the vinyl LP had been the mainstay of Renchan's business. "The Serato killed it," he says without bitterness. "The Serato wiped it out."
On May 5, after a month-long sale, Luke's Record Exchange will close for good, another record store forced out of business by the migration of music to the Internet. But Renchan, 55, isn't giving up. He's following the music into cyberspace, putting his entire inventory online.
In addition to flea markets, Renchan says he plans to sell records, tapes, DVDs and CDs through a Web site, www.lukesmusic.com, with hyperlinks to eBay. "You can sell anything. There's a market for everything," he says.
Over the past couple of weeks, as word of the going-out-of-business sale spread, Renchan says he has gotten calls from people who used to patronize the store, which sells posters, T-shirts and rock memorabilia in addition to recorded music.
People are saying they will be sorry to see Luke's go, Renchan says, although it has been years since the store has been busy. "When we had a half-price sale, we used to have a 100 people waiting to get in," Renchan says. Now, says Renchan's wife Christine, "we're lucky to get a handful."
People are buying their music from Web sites like Amazon.com or the Apple iTunes store. It's no longer necessary to wander down aisles and browse through music bins. Business has dropped so sharply that lately Luke's has been opening just two days a week.
It was different after Dec. 8, 1980, when the death of John Lennon put Luke's Record Exchange on the map.
At that point, Luke's had been open about a year. The store was known for having a big collection of Beatles records. But business was slow. "I almost threw in the towel," Renchan recalls. "And then John Lennon died and I had a line around the block."
The good times lasted until 2000, the year after Napster came out. Business dropped 50 percent that year, Renchan says, and 20 percent in 2001, when Apple introduced the iPod..
Business went down another 10 percent in 2002, then stabilized for a year or two, Renchan says, until Serato Audio Research introduced the software program that liberated hip-hop DJs from vinyl LPs.
At that point, Renchan, in addition to cutting back store hours, began talking about closing down permanently.
That will happen in a month. From Saturday, April 5, until then, Luke's will be open six days a week, so Renchan can liquidate his inventory, moving whatever is left to the Internet..
Something is being lost. For 29 years, Luke's was a place you could go not only to buy and sell records, but also to live and breathe music. And Renchan, who spent hours on the premises, has anecdotes galore.
Like the time he bartered a copy of the Beatle's Yesterday and Today album for a car.
A car? What kind of a car?
"It was a Pinto. A Ford Pinto," Renchan says.
The album was worth a lot of money, he says. It was one of the rare copies with the cover showing the Beatles butchering dolls.
Or all the times a fan of heavy metal music came in to sell his record collection. The guy would tell Renchan he had entered Alcoholics Anonymous or become a Christian. "I probably heard that several times in my career," Renchan says: 'I can't listen to this music anymore. I got religion.' "
Occasions like that were windfalls for a used-record dealer. But Renchan says he always offered a fair price. He never took advantage of someone whose willingness to sell resulted from the decision to forsake Satan or get rid of a husband or boyfriend.
Renchan remembers one transaction in particular. A very angry woman came in and said she'd accept any offer for what Renchan realized was a valuable collection of records.
She said, "I don't care what you pay me, as long as he doesn't get them," Renchan recalls.
"I felt so bad for the guy. It seemed like a nasty divorce. She was full of spit and anger. He must have cheated on her."
Renchan bought the records anyway, figuring if he didn't get them, some other used-record dealer would.