MAYOR BUDDY CIANCI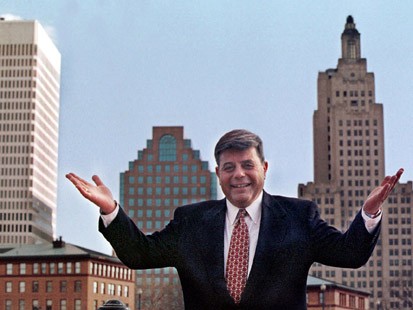 A HISTORY OF POLITICS AND PASTA
The following information borrowed with kind courtesy from Wikipedia http://en.wikipedia.org/wiki/Buddy_Cianci
Vincent Albert "Buddy" Cianci, Jr. was born April 30, 1941 and served as the mayor of Providence, Rhode Island, USA, from 1975 to 1984 and again from 1991 to 2002. Cianci was the longest-serving mayor of Providence, and one of the longest-serving "big city" mayors in United States history, having held office for over 21 years.
Family life
Cianci was born in Cranston, Rhode Island and grew up in the Laurel Hill section of that city, just over the Providence line. His grandparents Pietro, a carpenter, and Carmella Cianci, came to the United States from Roccamonfina, Italy, in the early 20th century. They had 13 children. Cianci's father Vincent was born in 1900 and was a doctor. In 1937 he married a woman named Esther Capobianco. Buddy has an older sister named Carol. He would go on to marry a woman named Sheila in 1973, whom he divorced in 1983. They had one daughter named Nicole and three grandchildren: Olivia, Joseph and Julius. His daughter died at the age of 38 on April 20, 2012
Education and military service
Educated at Moses Brown School, he earned a bachelor's degree in Government at Fairfield University, a master's degree in Political Science at Villanova University, and a law degree at Marquette University Law School.
He enlisted in the U.S. Army on November 29, 1966 and was commissioned as a 2nd lieutenant in the Military Police Corps on April 24, 1967. He served on active duty until 1969 and then in the Army Reserve as a Civil Affairs officer through 1972.
Early legal career
Admitted to the Rhode Island bar in 1967, he was appointed a Special Assistant Attorney General in 1969 and, in 1973, became the prosecutor of the Rhode Island Attorney General Department's Anti-Corruption Strike Force, a position he held until his first election as Mayor in 1974.
Early political career
In the fall of 1974, Cianci narrowly beat then-mayor Joseph Doorley on an anti-corruption campaign. Also helping Cianci win was a revolt by some Democrats who were upset with Doorley's administration. He was the city's first Italian-American mayor, ending a 150-year "power monopoly" held by Irish Democrats. Cianci was also the youngest man elected to the office at age 33, and the first Republican mayor of Providence since the Great Depression. Cianci was well known as an extremely charismatic and media-savvy politician. His propensity to attend parades, weddings, public events, and backyard neighborhood barbecues led to a common joke during his tenure as mayor that Cianci would jump to attend the opening of an envelope. Cianci was revered by many residents of Providence, and credited with the revitalizing of the city's economy and image.
During his first tenure in office, Cianci and his allies on the Providence City Council clashed with the anti-Cianci majority on almost every issue, the budget being the most heated one. In the mid to late 1970s, Cianci found himself as a rising star in the national Republican Party. After being introduced by Bob Dole, Cianci made an address at the 1976 Republican convention. There was talk of him being the first Italian-American vice president. Cianci was also seriously considered for a federal Cabinet seat in the prospective Gerald Ford administration, had Ford been elected in 1976. After Ford's loss to Jimmy Carterin the presidential election, Cianci tried to sell himself as a Senate candidate, pointing out that if the Republican Party was going to survive in the Northeast, it would have to get more ethnic voters. Cianci clashed behind the scenes with John Chafee, trying to talk him out of his Senate run so Cianci could get the Republican nomination instead. Chafee was elected to the Senate in 1976 and Cianci was re-elected as Mayor of Providence as a Republican in 1978.
Cianci ran for governor in 1980, losing out to incumbent J. Joseph Garrahy. After this loss, Cianci drifted away from the Republican Party. In 1982 he was re-elected as Mayor of Providence as an Independent.
Comeback
Cianci spent the next few years as a radio talk show host on Providence AM station 920 WHJJ and as a television commentator. In 1990 he successfully mounted a re-election campaign with the slogan, "He never stopped caring about Providence."
It was during Cianci's second run as mayor, beginning in 1991, that the city of Providence entered its Renaissance phase. The city became cleaner and more tourist-friendly. Cianci brought the Providence Bruins hockey team to Rhode Island from Maine, and pushed to further several projects in the city, including a new train station near the State House, new hotels, the Providence Place Mall, and the Fleet Skating Center. He also helped to orchestrate the establishment of Waterfire in downtown Providence, which brings up to 100,000 people to the downtown area alone on the summer nights it takes place.
In 1998 Cianci ran again for re-election as mayor, unopposed on the ballot. Cianci never lost a mayoral election in Providence.
Present
On September 20, 2007, Cianci returned to the airwaves on local Providence AM station WPRO, hosting a weekday talk show. He said that he had no plans to run for political office again, although he had not entirely ruled it out when pressed on the issue.
On October 24, 2007, Cianci appeared on WLNE-TV ABC6 to announce that in addition to his radio show, he was joining the television station as chief political analyst and contributing editor, which included moderating a weekly political segment called Your Attention Please, which was renamed Buddy TVand became a daily segment in July 2008, and is currently The World According to Buddy as of May 2011. His job with WLNE began on November 1, 2007. Cianci also hosts the station's weekend public affairs program On the Record with Buddy Cianci. He began in October 2008 as co-host of the program with WLNE weeknight anchor John DeLuca and became solo host in May 2011.
In 2010, Cianci said that he was "taking a good look" at running for the U.S. House seat held by Democrat Patrick J. Kennedy. He, however, did not declare his candidacy.
In 2011, Buddy Cianci released his memoir book called "Politics and Pasta" to rave reviews. Below is an except of his bio and a link to his website.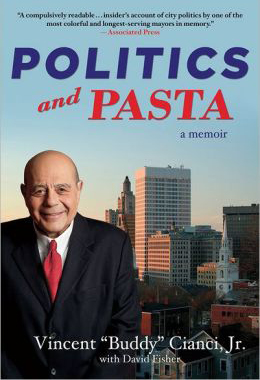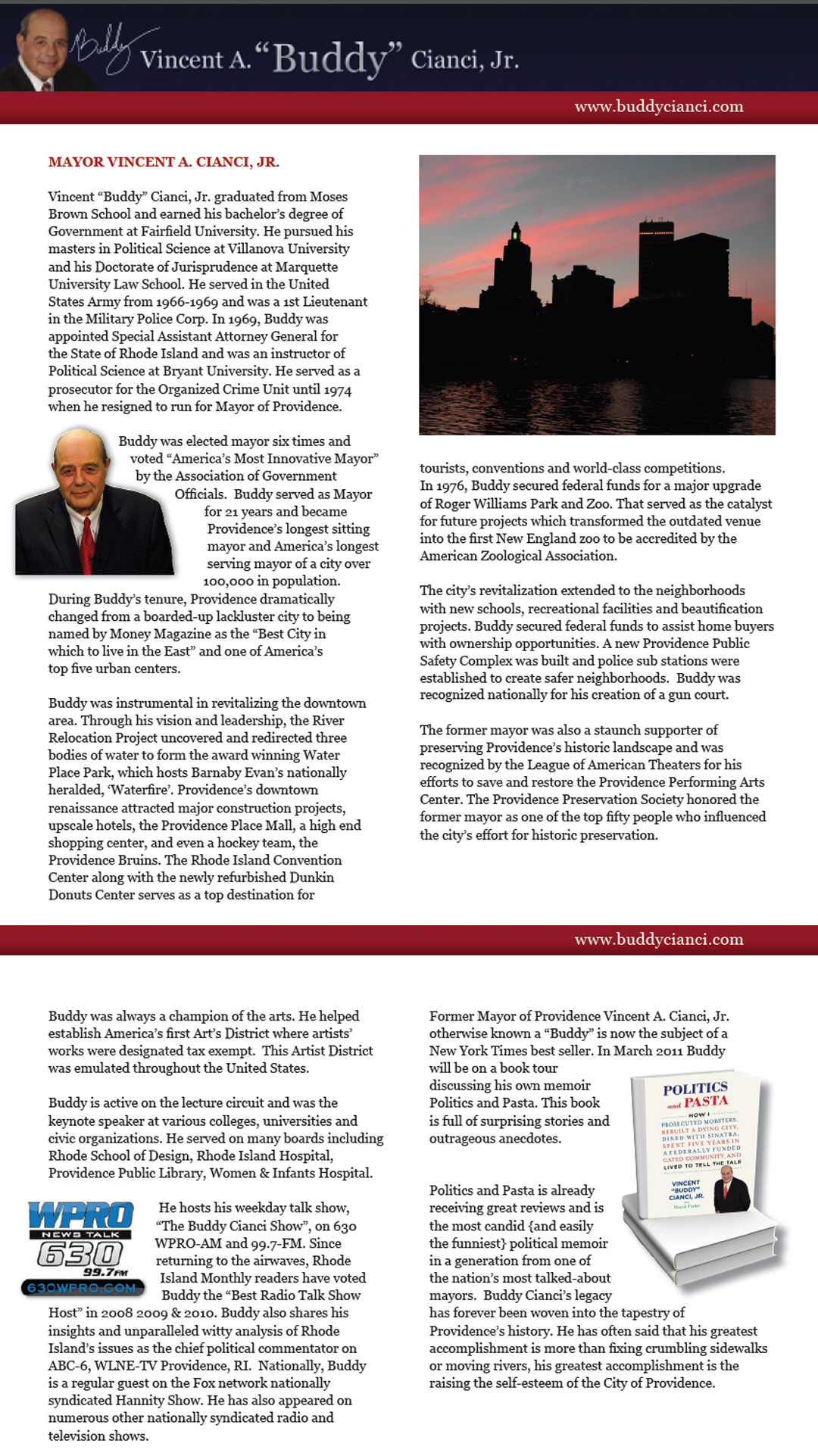 Excerpted from "Politics and Pasta" by Vincent Cianci, Jr., with David Fisher. Copyright © 2011 by Vincent Cianci, Jr., and David Fisher