A tribute to Dave Gavitt's 1972-73 Final Four Friars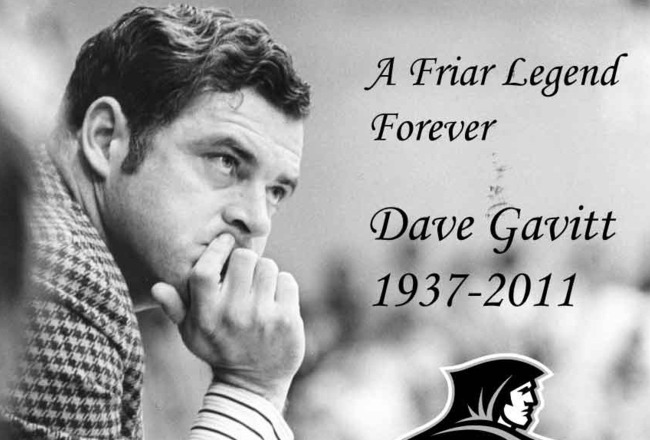 The 1973 NCAA Men's Division I Basketball Tournament involved 25 schools playing in single-elimination play to determine the national champion of men's NCAA University Division (the predecessor to today's Division I, which would be created later in 1973) college basketball. It began on March 10, 1973, and ended with the championship game on March 26 in St. Louis, Missouri. A total of 29 games were played, including a third place game in each region and a national third place game.
Under Dave Gavitt, who has brought Providence College back to the top echelon of the nation's collegiate basketball powers, the Friars not only won, but they entertained as well. They didn't run a countless number of time-consuming picks, nor did they rush the hoop like a band of kamikazes, but scored each basket with style and artistry. Like the harmony of a Mozart symphony - executed with brilliant orchestration to the tempo set by an Italian kid from around the corner called DiGregorio. You remember him - the one who was either too fat, too slow or not quite quick enough to perform the kind of job that was needed to win bravo's.
No, Ernie D didn't perform the way normal players are expected to play. But he played in a manner that delighted millions of fans who were brought to their feet by his magic. As personalities went during the 72-73 season, Ernie D stood alone. But to speak of Providence as only Ernie D would be blasphemous defiance of the "team" concept that led to PC's great success.
(Below was borrowed from http://voices.yahoo.com/ernie-digregorio-providence-college-legend-16748.html?cat=14)
Ernie led Providece College to that Final Four in 1973 where they lost in the semifinals to the Memphis Tigers. With a seesaw affair in the first half, Providence College lost star center Marvin Barnes to a leg injury. The Friars eventually succumbed to the Tigers but not before Ernie DiGregorio did his best Dave Crockett imitation, single handedly trying to hold off the fort with 32 points and numerous assists, including the aforementioned behind the back pass. Despite his efforts the Friars lost by a score of 98-85, a result that is still one of the biggest disappointments of our lives.
However, even thinking in terms of a "team effort", the Friar saga could not be told without singling out some of the memorable individual performances. With Maestro DiGregorio at the podium, the Friar team did not just score baskets, they created them. And one such team member, Marvin Barnes, reacted to the conductor's motions - poised and professional. Throughout the season, Marvin dominated, triggered and blended as few big men are able. Marvin ranked second nationally in rebounding, played defense second only to UCLA's Bill Walton and took a back seat to no one in terms of unselfishness. Marvin "Good News" Barnes tore the ball off the boards with ultimate authority and then spotted his teammates with his bullet-like passes and on-target precision.
Then there was the unheralded Kevin Stacom - the other guard. He was a true virtuoso; moving in strange ways until Ernie D spotted him through the maze of enemy defenders or Marvin caught him in one of his deep fly patterns. And remember Coach Gavitt jumping to his feet, cries of "Shoot the ball, Frannie." But when it came down to the moment of truth, Fran Costello came through from the outside or from the corner - Frannie always found his target.
And finally Charlie Crawford and Nehru King - sharing the fifth spot, not as rivals but rather as comrades. Aware of their purpose and intent on succeeding, this senior duo complimented the team in their ever changing role as sixth man. These were the principal individuals and their "togetherness" as a team was hardly an overnight occurrence. It was a three year effort on the part of everyone. For the past three seasons, they suffered through their share of losses as well as enjoying their share of victories - always learning "why" something else didn't connect. And with this experience they armed themselves for the start of an incredible year.
UCLA, coached by John Wooden, won the national title with a 87–66 victory in the final game over Memphis State, coached by Gene Bartow. This gave UCLA their 7th consecutive title. Bill Walton of UCLA was named the tournament's Most Outstanding Player.
In December 2012, the College announced it and seven other Catholic colleges would leave the Big East Conference to form its own league
PC along with Brown University, Rhode Island College and URI has had a great history of promoting concert throughout the year and especially during spring break.
CONCERT WE PRESENTLY KNOW ABOUT
| | | | | | | | | |
| --- | --- | --- | --- | --- | --- | --- | --- | --- |
| VENUE | 1966 | MAIN BAND | SUPPORT | SUPPORT | AD | TICKET | PICTURES | TAPE |
| Providence College, Alumni Hall | May 4, 1966 | The Lovin' Spoonful | | | | | | |
| Providence College, Alumni Hall | May 7, 1966 | The Beach Boys | The Lost | The Uncalled For Three | | | | |
| Providence College, Alumni Hall | October 7, 1966 | Simon & Garfunkel | | | | | | |
| VENUE | 1967 | MAIN BAND | SUPPORT | SUPPORT | AD | TICKET | PICTURES | TAPE |
| Providence College, Alumni Hall | May 6, 1967 | The Four Townsmen | | | | | | |
| Providence College, Alumni Hall | May 7, 1967 | The Lovin' Spoonful | The Others | | | | | |
| VENUE | 1969 | MAIN BAND | SUPPORT | SUPPORT | AD | TICKET | PICTURES | TAPE |
| Providence College, Alumni Hall | September 26, 1969 | Canned Heat | | | | | YES | |
| VENUE | 1970 | MAIN BAND | SUPPORT | SUPPORT | AD | TICKET | PICTURES | TAPE |
| Providence College, Alumni Hall | March 1, 1970 | Tim Harding | David Frye | | YES | | | |
| VENUE | 1971 | MAIN BAND | SUPPORT | SUPPORT | AD | TICKET | PICTURES | TAPE |
| Providence College, Alumni Hall | November 13, 1971 | Melanie | Livingston Taylor | | YES | | | |
| VENUE | 1972 | MAIN BAND | SUPPORT | SUPPORT | AD | TICKET | PICTURES | TAPE |
| Providence College, Alumni Hall | February 13, 1972 | King Crimson | Blues Project | | YES | | | SET LIST |
| Providence College, Student Union | March 11, 1972 | Benefit Street | Toast | | | | | |
| Providence College, Alumni Hall | May 5, 1972 | Spencer Davis Group | James Cotton Blues Band | | YES | | | |
| Providence College, Alumni Hall | May 6, 1972 | Herbie Mann | | | YES | | | |
| Providence College, Alumni Hall | May 6, 1972 | Mitch Ryder | | | YES | | | |
| Providence College, Alumni Hall | September 1, 1972 | Seatrain | Egg Brothers | | | | | |
| VENUE | 1973 | MAIN BAND | SUPPORT | SUPPORT | AD | TICKET | PICTURES | TAPE |
| Providence College, Alumni Hall | May 5, 1973 | Bruce Springsteen & The E Street Band | John Paul Jones | | YES | | YES | |
| VENUE | 1974 | MAIN BAND | SUPPORT | SUPPORT | AD | TICKET | PICTURES | TAPE |
| Providence College, Alumni Hall | May 3, 1974 | John B. Sebastian | | | | | | |
| VENUE | 1975 | MAIN BAND | SUPPORT | SUPPORT | AD | TICKET | PICTURES | TAPE |
| Providence College, Alumni Hall | March 1, 1975 | Aztec Two-Step | | | | | | |
| Providence College, Alumni Hall | April 26, 1975 | Frank Zappa & The Mothers | | | | YES | | |
| Providence College, Alumni Hall | September 25, 1975 | Robert Klein | | | | | | |
| Providence College, Alumni Hall | November 15, 1975 | Peter Frampton | Aztec Two Step | Augi Wite | YES | YES | | |
| Providence College, Alumni Hall | December 6, 1975 | Bonnie Raitt | | | | YES | | |
| VENUE | 1976 | MAIN BAND | SUPPORT | SUPPORT | AD | TICKET | PICTURES | TAPE |
| Providence College, Alumni Hall | February 28, 1976 | NRBQ | Pousette-Dart Band | RIZZZ | | | | |
| Providence College, Alumni Hall | May 6, 1976 | Little Feet | | | | | YES | |
| Providence College, Alumni Hall | May 8, 1976 | Chris Hillman Band | | | | | | |
| Providence College, Alumni Hall | September 18, 1976 | Orleans | John Cafferty & The Beaver Brown Band | | YES | YES | | Recorded |
| Providence College, Alumni Hall | October 7, 1976 | Pure Prairie League | Pousette-Dart Band | RIZZZ | | | | |
| VENUE | 1977 | MAIN BAND | SUPPORT | SUPPORT | AD | TICKET | PICTURES | TAPE |
| Providence College, Alumni Hall | March 20, 1977 | Bruce Springsteen & The E Street Band | | | YES | YES | | Recorded |
| Providence College, Alumni Hall | September 30, 1977 | Tom Rush | | | | | | |
| Providence College, Alumni Hall | October 11, 1977 | New Riders of The Purple Sage | RIZZZ | | | | | |
| VENUE | 1978 | MAIN BAND | SUPPORT | SUPPORT | AD | TICKET | PICTURES | TAPE |
| | | | | | | | | |
| VENUE | 1979 | MAIN BAND | SUPPORT | SUPPORT | AD | TICKET | PICTURES | TAPE |
| Providence College, Alumni Hall | March 20, 1979 | Boomtown Rats | Rockets | | | | | |
| VENUE | 1987 | MAIN BAND | SUPPORT | SUPPORT | AD | TICKET | PICTURES | TAPE |
| Providence College, Alumni Hall | April 25, 1987 | Squeeze | | | | | | |
| VENUE | 2004 | MAIN BAND | SUPPORT | SUPPORT | AD | TICKET | PICTURES | TAPE |
| Providence College, Alumni Hall | October 15, 2004 | Zox | Quintus | | | | | |
| VENUE | 2005 | MAIN BAND | SUPPORT | SUPPORT | AD | TICKET | PICTURES | TAPE |
| Providence College, Alumni Hall | April 22, 2005 | Zox | | | | | | |
| | | | | | | | | |