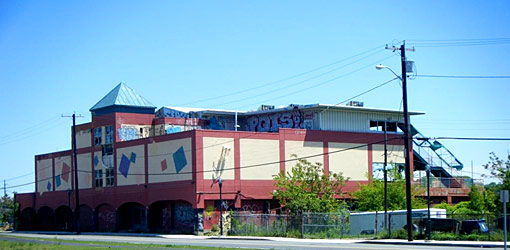 Above picture courtesy of Kerri-Ann Pontifice
Articles and pictures related to the old Warehouse and its many incarnations since 1970.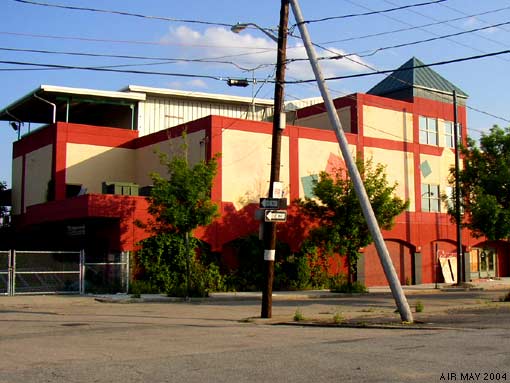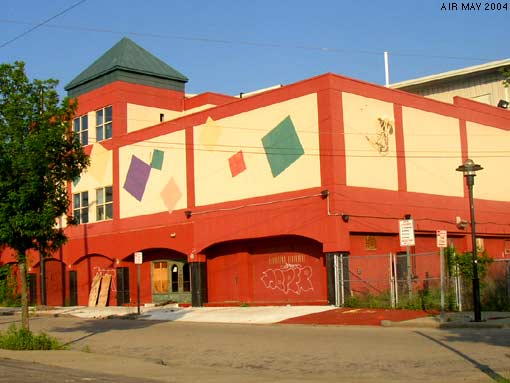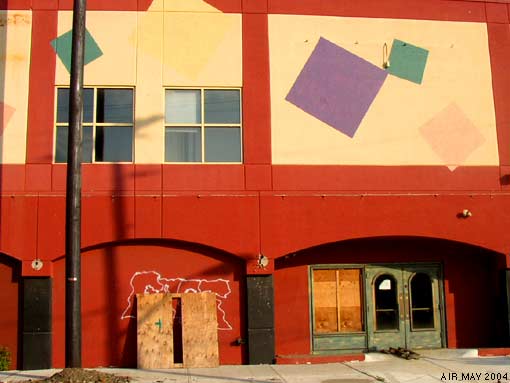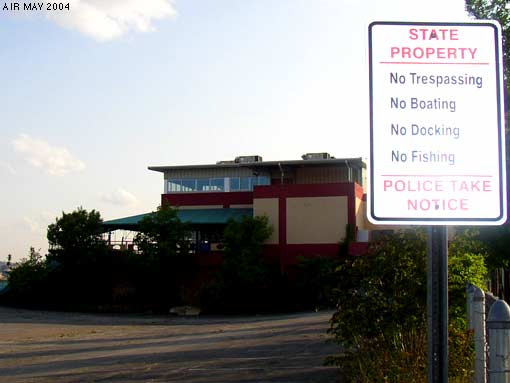 Above picture courtesy of AIR
(Spring 2008)
Funny looking and brightly colored, we are surprised this structure is still around since most of the surrounding buildings have been taken down for the I-195 relocation project, and all the property directly in front of it will soon be an overpass or onramp. We are not sure when this building was erected, but in its heyday, it was apparently a hoppin' nightspot, overlooking the water, and near places like Al Forno's, Grappa, and the Hot Club. The club had live music most nights, djs, and private rooms for parties, and visitors could moor their boats out front and hop into the bar.
We'd like to know what will happen to this place once the highway is done… it could be a great club again, being right on the water, but with a highway behind it, we just don't know. We do know that the property, very recently, was assessed for around $4 million.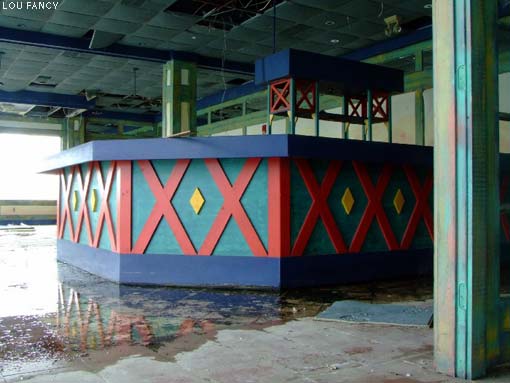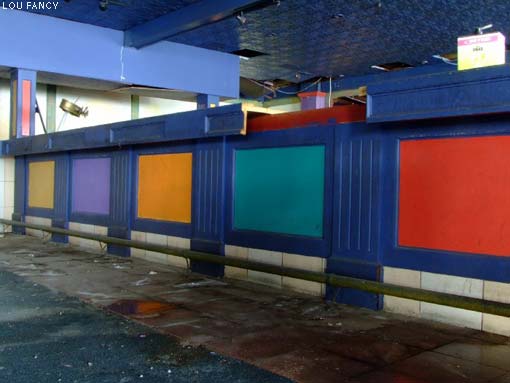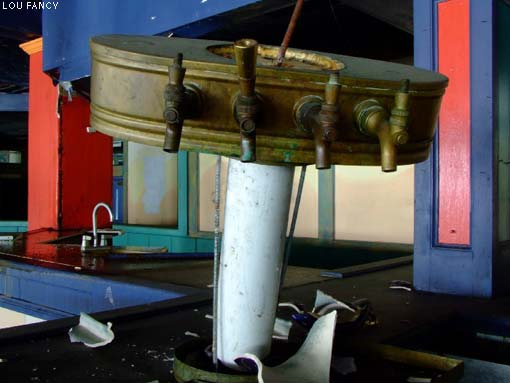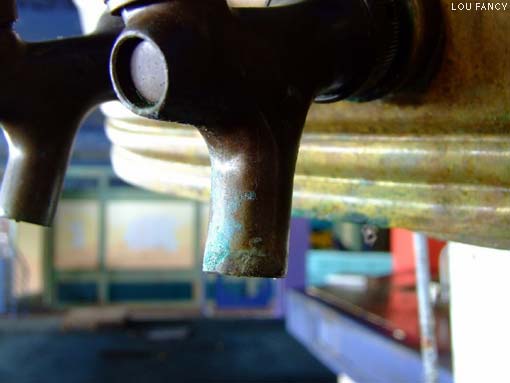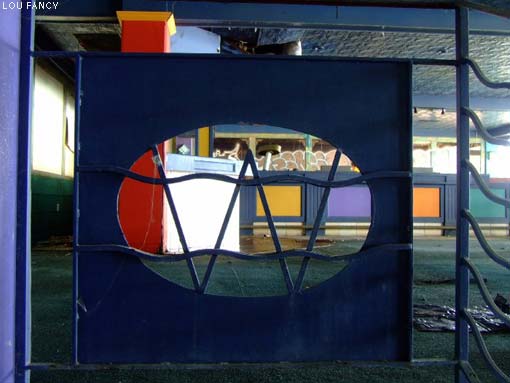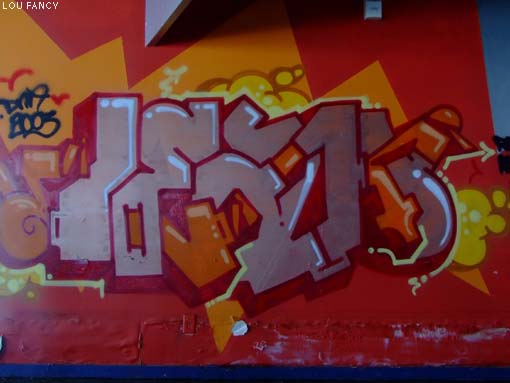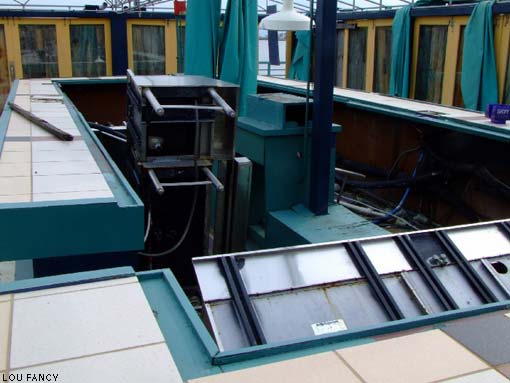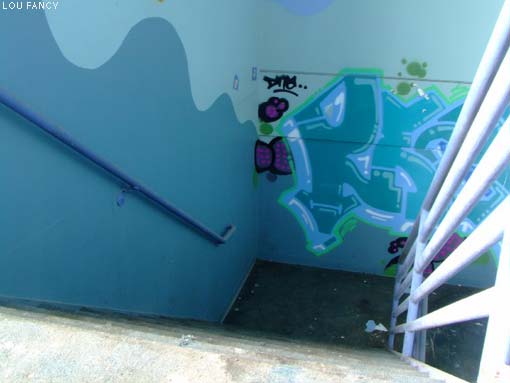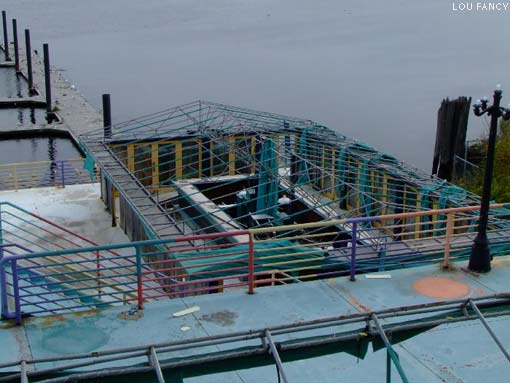 Above picture courtesy of Lou Fancy
Shooter's site goes on the market
Wednesday, January 7, 2009 | Philip Marcelo for the Providence Journal
The site of the former Shooter's Waterfront Cafe is for sale. The state is asking $3.5 million for the property. Proceeds from the sale of the property, which the Department of Transportation took in 2000 by eminent domain for the Iway project, would go to finance the next parts of the Route 195 relocation. But area advocacy groups and elected officials are asking that the "crown jewel" of the city's waterfront remain in the public domain. "This is the most beautiful view of Narragansett Bay that we have," said Sen. Rhoda E. Perry, D-Providence.
The state paid $4.7 million in compensation for the three-acre site. Just over a third of the property was needed for the new Iway infrastructure; the remainder was needed only temporarily, for use as a staging area for the project. The state's asking price is based on an appraisal in April.
Committee chairman Kevin Flynn said the state is obligated to put the property up for sale because 80 percent of the purchasing cost was covered with federal money, on the condition that whatever was left over be sold at market value to help pay for the highway project. Flynn says the committee's approval allows the DOT to draft a request for proposals so that the property can be advertised for a public auction. The committee will review the RFP and, more important, have a say over whether the state moves forward with the sale. A purchaser would have to honor easements that ensure public access to the waterfront, he added.
"Some compensation needs to be paid back to [the Federal Highway Administration], and it's up to this committee to determine what that is," he said.
The state has held off selling the property for nearly one year at the request of the city, which hosted a series of neighborhood meetings, called charettes, to discuss the property and other local planning, development, and zoning issues in Fox Point.
Thomas Deller, the city's director of planning, said Monday the city has given the state the go-ahead to move forward with the first steps in a potential sale. Based on the charette process, Deller said the city determined that there will be no change of zoning to the property, which is currently zoned Waterfront-2, a mixed-use designation allowing residential, commercial and light industrial development.
Fox Point residents, other East Side neighborhood associations, and local advocacy groups, however, want the site, which abuts the city-owned India Point Park, to be developed for public recreation. "There is a need to create an attraction there," said Arria Bilodeau, co-chairwoman of the Head of the Bay Gateway, an advocacy group. "This is an opportunity to add a tourism draw to the state."
Shooter's, opened by Joseph Cerilli in June 1990, was a major addition to the nightlife scene on the city's Old Harbor, which at the time was centered – as it is today – on the Hot Club, Fish Co. and the Corliss Landing development near the Fox Point Hurricane Barrier.
Shooter's, part of a national chain of casual waterfront dining and dancing venues, was in a three-story building that could accommodate nearly 1,600 patrons. The 25,000-square-foot complex featured dockside dining, a waterfront pool, bars inside and outside, a top-floor restaurant and a 90-slip marina. It cost $6 million to build.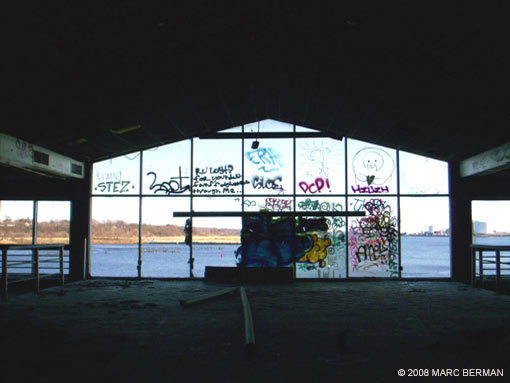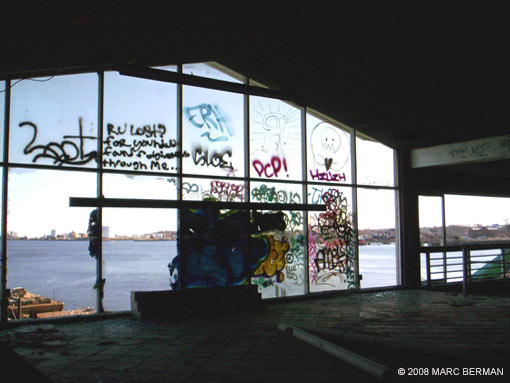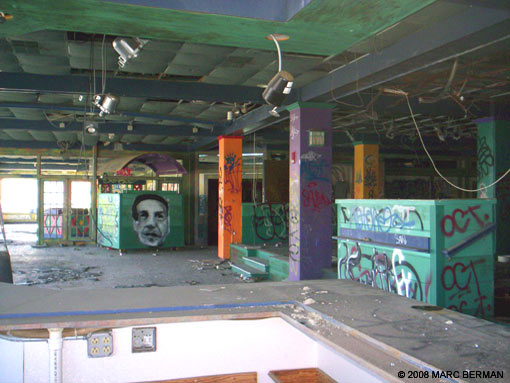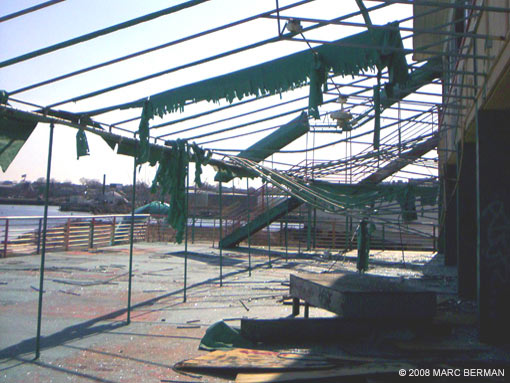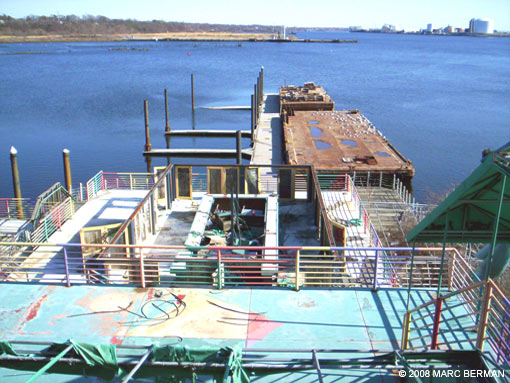 Above picture courtesy of Marc Bergman
City Planning Commission votes down the Request for Zoning Variance
February 23, 2010
The City Planning Commission (CPC) acted on the former "Shooters" site, supporting retention of public access to the site vs. allowing residential development. The Fox Point Neighborhood Association launched www.makeshooterspublic.com, a website providing information on efforts to preserve public access dating from 2007 to last night's result. The "What's Going On" section recaps developments, and the "Head of the Bay Gateway" section includes thoughtful statements from community leaders and supporters.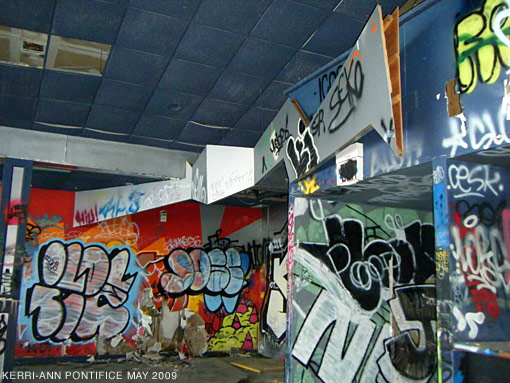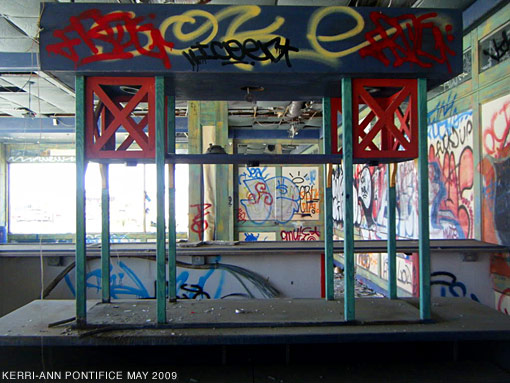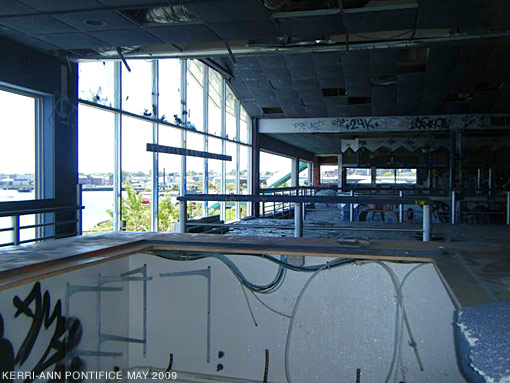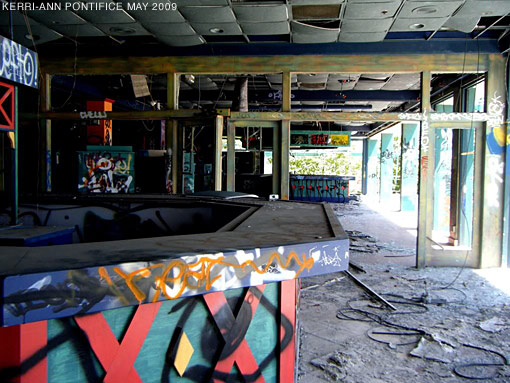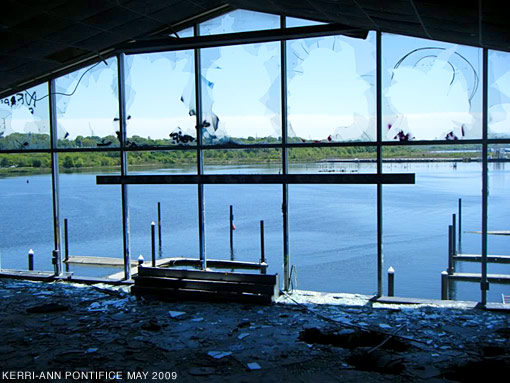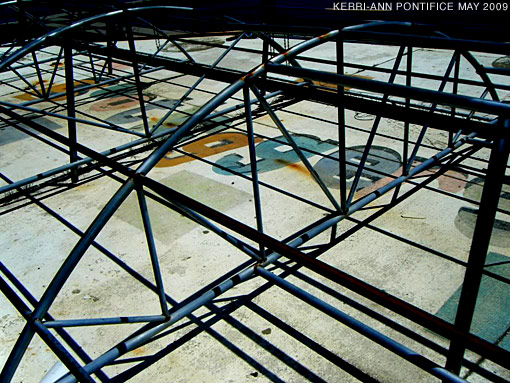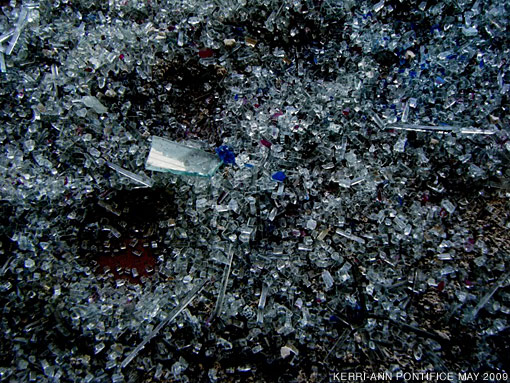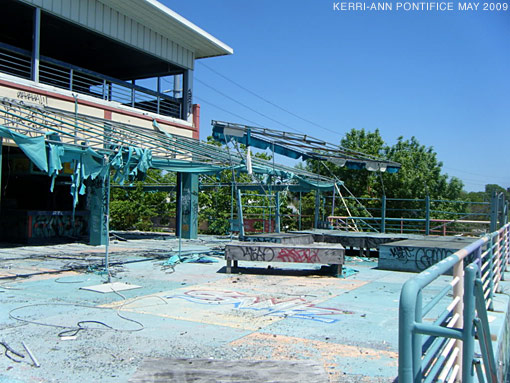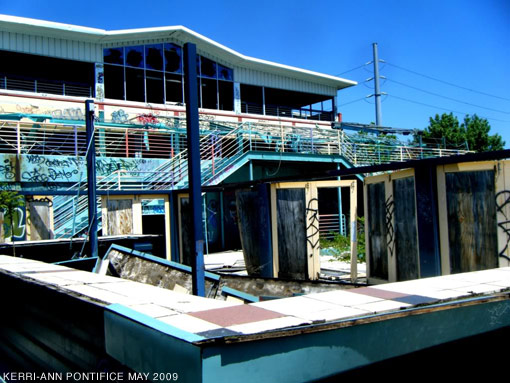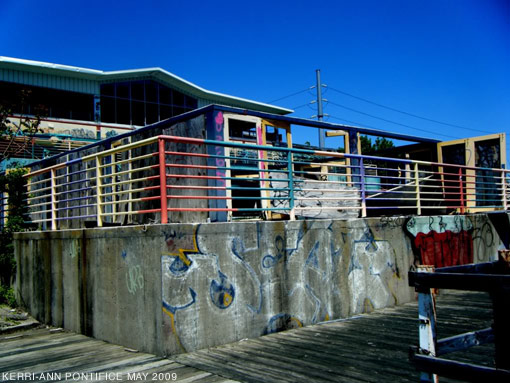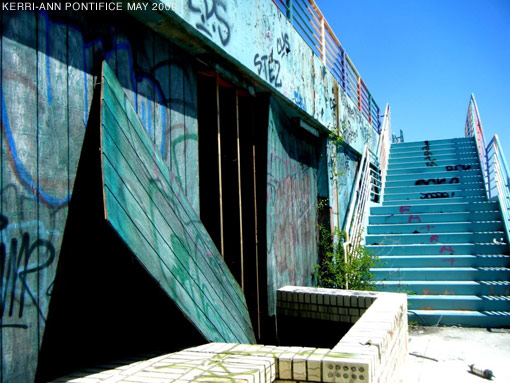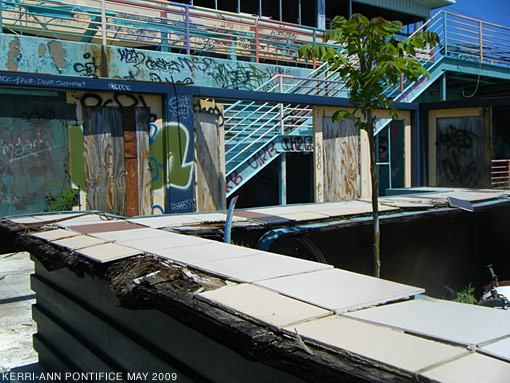 Above picture courtesy of Kerri-Ann Pontifice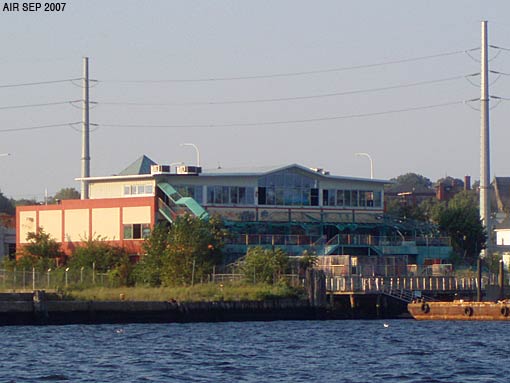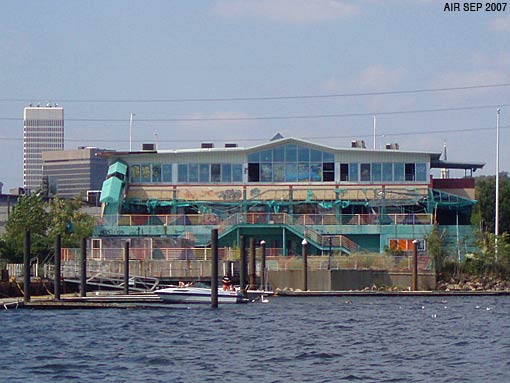 Above picture courtesy of AIR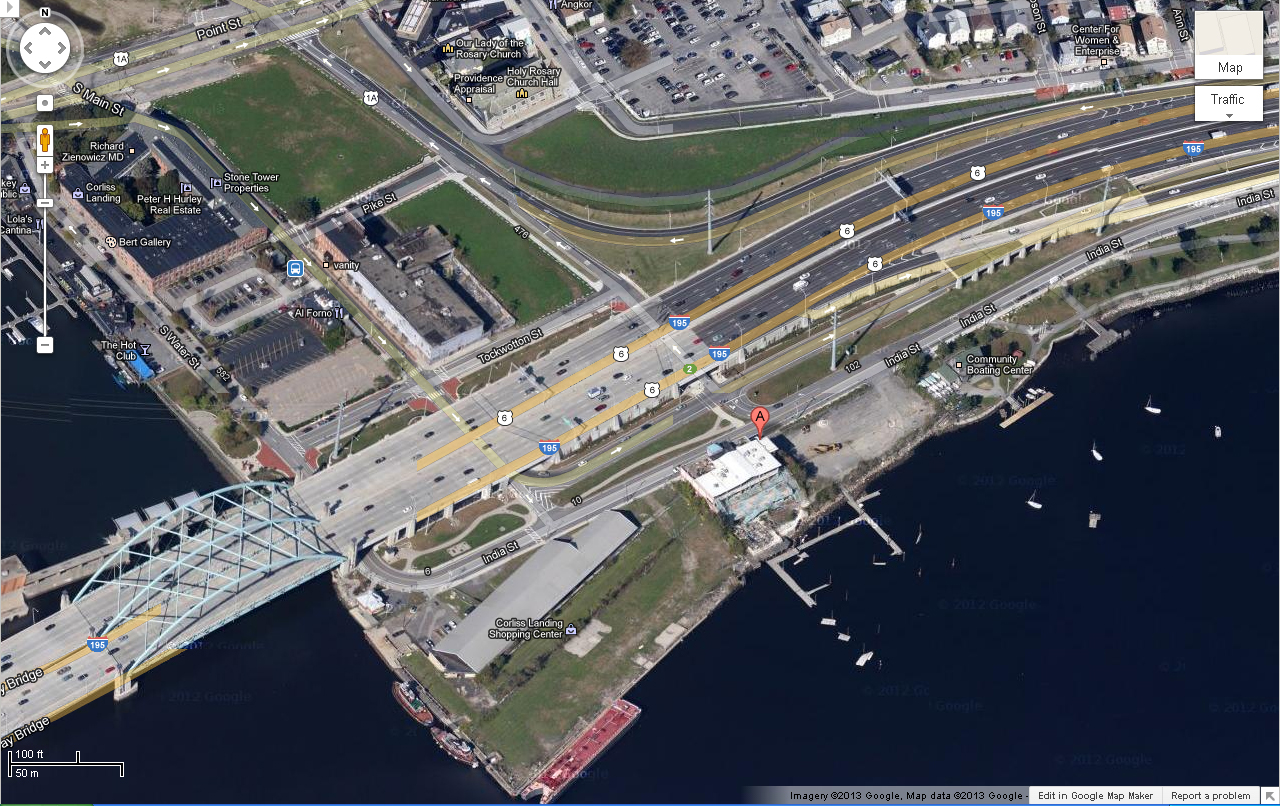 Above picture courtesy of Paul Fernandes
Demolished winter 2011
VENUE MEMORIES:
*Note: if you were there and would like to share your memories, pictures or tape please send it info@rirocks.net
The following memories was taken from Rhode Island Art In Ruins (AIR) by kind courtesy http://www.artinruins.com/arch/?id=decay&pr=bootleggers#top1
Erin NOV 2 2011 I have seen this place a few times by boat and always wondered what its history was. It sounds like it was an awesome place to be. I would love for it to be reopened! Young people are dying for a place like this, especially one accessible by boat!
Daniel N. OCT 12 2011 Okay, I've got more years (62) behind me than most I've read to this date who left anecdotes, but I'm sure I perfectly remember going to a good sized club called the "Warehouse" with my girlfriend and others at that exact location when I was 20-21 years old, in late 1970-71, and then afterward; long before it (or at least something later at that same location) became Bootleggers or Shooters. Does anybody else remember "The Warehouse"? I seem to recall or at least think it was somehow associated with, or to, one of RI's first early, big music/rock promoters: Skip Chernov (sp?). Maybe the old "Warehouse" ended being knocked down and then all the other stuff then developed over time's course. Any older parents (or even grandparents) the others of you can maybe casually ask if they'd ever been to the Warehouse – over 40 years ago? I also went to the Bootlegger and Shooters off and on on very rare occasions later, just to see how much it'd changed from what I remembered from my 20s. Compared to what it ultimately became, that early "Warehouse" was just that... more a converted warehouse then anything else. But it was there.
Craig L. JUN 24 2011 I was 22 years old when Shooters Waterfront Cafe opened in June of 1990. I was one of the original bartenders and worked there till midway through law school 1995. It was opened by Carmine D'Elena, Joe Cirelli and Dr. Ken Silvestri. My management team was brought up from Ft Lauderdale and included Bar Manager, Jamie Welch; a bartender/trainer named Bart, a waiter/trainer, named Tony Landells and the General Manager, whose name I can't recall, who later became an attorney. (He was from Buffalo, was crazy and a great guy). Later the Izzo family of Metals Recycling in Johnston bought it and Jack Walrond became the General Manager. (I think he owns a restaurant on Main Street in East Greenwich now). Doug Palmieri, formally of WHJY, was my barback, as was Johnny from the Newport band, "Those Guys". I can say without question that working there was the most fun I ever had. On opening night, I worked with a girl named Beth at a portable bar on the roof. (Beth was... well let's just say very well put together, which is why we made $350 each that night just serving canned beer and wine in plastic cups. (Man, I think my finger nails almost feel off from reaching in that ice water and opening those pop tops all night.) Over the five years or so that I worked there, I saw soooo many amazing things. For example, when the night ended we would go up to the roof and watch, "Friday Night at the Fights". It was amazing how many people I saw get knocked out cold. The best body contests at the pool bar on Saturday afternoons were a blast. Then when they decided to put a roof on the top level and make it a dance club, we could work year round.
Now that I am in my early forties and drive by the building, it makes me sad and makes me smile at the same time. I think about the over 200 bartenders and 400 cocktail waitresses I worked with in that 5 plus years and wonder what happened to everyone? How did it fail? We would ring over $19,000-$20,000 at the Pub bar in one night ... in freaking 1990?????! Think about that? How much did we have to serve to ring those numbers every night when an Absolute was $3.75? Frozen mudslides with Bailey's, Kahlua and Vodka and Ice (no cream) were $5.00. Heineken was $3.00 and Bud was $2.00. How did that place fail?????? That was just one bar. We had three more on the top floor and also had the pool bar, which was always just as busy as the pub?????!!!!!!!!! That place was soooo much fun!!!!!!!!! I hope it comes back.
Elise MAY 22 2011 Went on a "1st date" here and had a blast with a great guy.
Cliff NOV 23 2009 Worked there for three years... In that time it was "The Waterline", and they tried to promote is as a real fine dining experience but the area was just too big. They were using the upstairs for catering but it never caught on so they opened it as "Bombers Club". At some point it was bought out and turned into Bootleggers. I worked there as a bar back and occasional bartender for a while. The place was nuts! I remember the nights there were so jammed that we couldn't get beer to the bars fast enough! Sad to see it all closed up...
Withheld SEP 3 2009 CAUTION: Anyone entering this building should be aware that due to the interior flooding from vandalism the flooring in some parts of this building have rotted through and is very dangerous especially in the back right corner of the second floor bar. Appropriate authorities should be informed of this to insure that this building is kept from being entered and to avoid incident.
John G. AUG 1 2009 I had the chance to come here and take a few pics. I took photos of the building itself and also some self portraits with the building. The structure set up for some beautiful shots. Although, I hadn't had the chance to go inside and take pics because when I was shooting pics outside, there was another photographer on the other side of the building and a providence cop car drove by and pulled in and said something to him and the he turned around and was heading towards me, but at this time I was wrapping things up! But it's indeed a beautiful building for pictures
Kerri MAY 20 2009 Just went here the other day to take lots of pictures. The place is very bright, but really fallen into despair. There's a few holes on the dance floor of the third floor near the once glass windows that overlook the water. There's a bit of flooding too on the second floor. The stairwells are all intact and from experience appear "safe" The place is littered with colorful broken glass, beer cans, and spray paint cans. Wires are hanging everywhere, and portions of the ceilings and insulation are falling in. The first floor has been gutted out. My friend and I only peaked in this room, because there was a missing wall, and some construction workers next door would have seen us. As we were leaving we walked around the front and noticed a sign about "asbestos abating." Does anyone know how true this is? Is this just to deter people from exploring the place?
Krissy APR 5 2009 I remember being in high school and this was one of the places that I could get in under age, quite fun :) I also remember being "legal" a few years later and having the time of my life dancing and being tipsy and falling into the pool!
Steven JULY 7 2008 I wanted to see if there is anyone out there that can get me as much information about this location. I am very interested in purchasing this site to reopen it as a nightclub, marina, and restaurant space. I have been in contact with DOT and other state dept. I would also love for people to send me photos if they have them of what this space was. the only way the banks will fund such a project is if they can see how much interest there really is in this place. Here is my email. stevenstemarie [at] comcast [dot] net
Whit JUNE 19 2008 Does anyone know the story behind the other nearby abandoned nightclub (Bevo)?
Kirk SnowI remember going to a party here for the high school graduation of one of Mike Kent's nephews. Its a waste of a good building if the State just tears it down.
Mike F Yeah. That site was a Shooter's. It opened in 1990, IIANM. It was a crazy fun place but traffic and parking were a big problem. If it was really on Saturday night, my friends and I would just park on Wichendon St and walk.
jay The place looks like id be amazing went and checked it out would be awesome if they brought it back.
ANGELL the best days of my life! i was a student at jwu and every friday nite in the summer there was no spot like it. the different syles of music on each level the out door breeze by the docks. the club was packed every weekend. one night donald trump docked his yacht. the out door bars were amazing and the feeling was like no other. WHAT HAPPENED?
lisa t this was the place to be! i used to go in the early 90's, and there was nothing else like it. i had so much fun, there would always be some guy with his clothes on in the pool.
tim m Shooter's was the brainchild of Joseph Cerilli and came about as a result of the stock market crash of 1987. A condominium tower was proposed for the site, which was at the time the boat repair yard of Maloney & Rubien. Two model units were constructed and many units were presold, but when the stock market crashed in October, 1987, the financing could not be consummated. Cerilli obtained a franchise from Shooter's and built the club at great speed and cost because of time limits in the franchise agreement. The cost of the failed development and the construction costs were too much for the restaurant to support, even with new partners.
Stevo Who is the owner of the property at this point and what is the intention?? Will it be leveled for the highway or could the space be restored??
Ash;Man I feel like I'm 19 yrs old again. Back when it was called Shadows. It was the spot to be at. Because the women were lets say more fun to be around than other clubs. The music was hot and we had lots of fun because that was the only club we got in on friday nights being under 21, it also helped when your brother on occasion was the DJ.( DJ Osheen). It was a smaller club back then but still had lots a room inside to dance. But I guess just like everything else, build it bigger and more expensive so young people who keep our city hoppin can't buy or enjoy all the richness this city offers. Very sad to see things go under.
Bill I remember just after Shooter's opened, I lived on Wickenden Street at the time, and there was a phenomenal increase in loud, very obnoxiously heterosexual partiers driving around drunk. Just to have some fun, a friend and I made up fliers inviting people to come to Shooter's first gay/lesbian night on Wednesdays and made up several hundred copies and put them on all the cars there. I'd love to hear if anyone remembers seeing those fliers & what they thought of them.
Donna Rega Hi, I'm a product of the late 70, 80's and early 90's nightlife crowd. I need clarification. Down in India Point there was a club called Twenty One East, then I believe it was called Roosters the Shadows. Please correct me if I'm wrong. Is the building still there? Also I attended opening night at Shooters; was Shooters the first nightspot in that location, then I believe it changed to American Bar and Grill and then Bootleggers. God nothing could compare to those Shooters days! The view, the food, everything one could want, good looking people everywhere – please clarify for me. Thank you
P Babbidge I remember back when this place was Shooter's and I went to see Blind Melon, Robyn Hitchcock, Nina Cherry and Ween all in the same night! What an eclectic collection of artists. I also remember rating a "10" in the Shooter's Skirt Flirt and enjoying the test tube shots they served.
Lauren I used to work at Bootleggers, the last summer it was open. (Jason V. is actually who hired me) It was by far my favorite job ever. I remember looking off the patio at the bay and watching the heat lighting shows scatter across the sky. "Boots" provided a complete photo album of the "best summer of my life" and many, many, fond memories. I met two of my best friends working that summer of 2000. I still drive past from time to time and wonder if maybe some day it will reopen as one of rhode islands top summer nightlife establishments.
localgirl This was built in part by one of the owners of the former Angell's (now XO) on S. Main St. There was originally a permit to build a hotel on the top of it. Opening night was circa late 80's, early 90s-I can't remember exactly what year it was, but my sister attended-she was friends with the owners son. I hear the 90's clientele and scene were pretty cheezy there, but the one time I did go (mid-90's), was a Sunday jazz brunch, with live bands by the pool, enjoyed by local families and college kids seeking bloody Marys alike.
Jason V The last year and a half i was on the managment team there at Bootleggers and still to this day i think it was the nightclubs of all nightclubs in which none has come close to for summer time fun in RI. We put a lot of blood sweat and tears into that place and it is a crying shame to see it looking like this. When the state made out the plans for 195 they should have known it wasnt going to be destroyed. I would like to see it re-opened as RI's premier waterfront night spot, i know thousand's of others who would love to be able to spend there summer weekends there once again.
David Henault I was in my late 20's when this was built. One of the developers was an attorney from East Greenwich named Carmine D'Elena. The place was named and modeled after a Ft.Lauterdale club (Gary Hart was photographed on the Yacht Monkey Business there with model Jennifer Flowers, ending his presedential run). The R.I. Shooters was financed in part with UDAG Grant money, a federal urban development program. It is incomprehensible to me that the feds were not aware of the path of the new highway at that time. The club is also infamous for having 40-45 cars stolen from the valet in one weekend – all high end models, none recovered.
Andy At one point it was owned and operated as "Bootleggers" under prominant Rhode Island nightclub entrepenuer Mike Kent (ie. the Complex, Deja-Vu, America Bar & Grill [currently McFaddens] Rebar, Diesel aka. The Strand, etc.) It was obtained by the state for the expansion and reconstruction of the I-195 project. I know he made tons of $ off the place however he lost out when the state took it and is prolly not happy that its still there. The building with its 3 stories, decks/balconies, and rotunda atop would be a great public space for recreation. Docking, visitor area, restrooms, perhaps a good use for intimate public functions. I could also see this space as a resort of sorts. It would be great to have some type of public wharf in the capital city.
Michele B I remember when This club was open. My friends and I used to come here on all ages night in the summer on a tuesday or wednesday night. This was back in 1998-1999. They played R&B, Rap, and Reggae. It was a fun time. They used to have guy and girl dance contests. I used to jump in the pool with clothes and all. Alot of kids did that.
G Ainsworth:I know that somewhere around 1993, it was called Shooter's Bar and restaurant. As I remember, there was a pool and a place to tie up your boat and then come into the bar. The place was always packed, and I frequented it during summers to hang with the locals. It was a lot different from the vibe of clubs catering to the college kids downtown. I also remember that around '95 or '96, it became known as Bombers. I am not sure if the name was used for the entire complex or just the top floor club area. It had a fireplace and couches at one point, but that incarnation might have been for something other than Bombers. Also, the place has not always been so colorful. It actually had been more refined in appearance; more conservative and "upscale". The garish facade you see now is a more recent phenomenon.
Jed O I was out taking photos this winter and broke into this place. The outdoor bar is still there by the water, with smashed windows and all the napkin holders and everything intact, like they just got up and left.