RANDY C. HIEN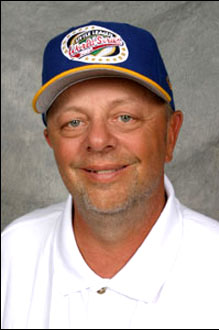 1949-2006
Randall C. Hien, was born in Woonsocket in 1949 and was the son of Jeannine (Bacchiocchi) Hien and the late Charles A. Hien. He was also the great nephew of B.A.Dario who owned Lincoln Downs Race Track, RKO Albee Theatre, and the Loew's State Theatre (now the Providence Performing Arts Center) to name just a few. Randy who lived most of his life in Lincoln, RI was a devoted family man, club owner , Little League Coach and restaurant proprietor.

1971-1975 - Loew's State / Palace Concert Theatre
Randy started working in the music business in 1971 for his great uncle who had recently purchased the decaying Loew's Theater in downtown Providence. They changed the name to the Palace Theatre as a venue for rock n roll concerts. Randy managed concessions, band relationships and venue operations until 1975 when B.A. Dario decided it was not financially feasible to keep the doors open any longer.
By this point Randy was certain he wanted to continue promoting music but needed a venue to do it in. He approached a man named Arnold Hahn who had a small failing club at the corner of Westminister and Empire St. called The Living Room just blocks away from the Palace. Randy had no real money but offered Mr. Hahn his Jaguar XKE for the keys to the club and the liquor license. Mr. Hahn gladly took the offer to rid himself of this major headache.
1975-1981 - The Living Room (#1) - 380 Westminster Street, Providence, RI 02903
Finally on his own, Randy's idea was to give local bands a place to call home and to have fun. He made friends with another bar owner across the street named Rich Lupo who was also just starting out. Both men had an idea to open a bar for people to come and hang out and listen to music but it was still not defined where it was going.
By 1978 Randy and The Living Room with the help of his friend Carl Sugarman was gaining a great reputation as the venue to play. Better bands applied and by 1980 the local music scene was in full force in downtown Providence. Then the bad news came in 1981. The owner of the building as it turned out was his great uncle B.A.Dario who told Randy that his lease would not be renewed and the building was going to be torn down for a Federal building. It looked like an end to Randy's dream and the local music scene but instead he decided to find another location to continue what he started.
1981-1990 - The Living Room (#2 Bubble complex) - 273 Promenade Street, Providence, RI 02908
Randy set up shop for his Living Room #2 in a warehouse area on Promenade St. It got the nickname the "Bubble complex" because of this bubble window that extended out as you walked in. This was a great period for the club scene with many great local and some national bands coming to play his establishment. Even Randy's mother got involved by cooking dinner for the many starving musicians. It was a great time until.....it happened again! The owner did not renew his lease and Randy and his Living Room #2 came to an end.
1990-1995 - Change of life and other passions
The next five years were spent looking for the right venue that Randy could buy so he wouldn't have to worry about being at the mercy of some landlord. Also during this period he spent time with his family and became very active and dedicated to the sport of baseball. He coached Cumberland Farm League for two years, Cumberland Babe Ruth for five years and Lincoln Little League for twenty-eight years. He also coached the Lincoln Parks and Recreation basketball league for two years.
1995-2006 - The Living Room (#3) - 23 Rathbone Street, Providence, RI 02908
Finally after searching for the right club he bought 23 Rathbone St. in Providence and The Living Room #3 was in business. This new incarnation continued in the same feeling as the other two Living Rooms and local and national bands would make their stop here to play and to see Randy. In February 2004 Randy was accidently hit by a motorist which left him confined to a wheelchair. Randy still continued on coaching baseball but found it harder to manage a club on a day to day basis. His dear friend Charlie took over the club management with Randy on the phone every day making sure the bands were taken care of.
2006 - Sadness strikes everyone's heart
On September 25, 2006 we got the word that our beloved Randy was accidentally killed by a motorist near his home.
Besides his beloved wife Patti A. (Brown) Hien, Randy leaves his mother Jeannine (Bacchiocchi) Hien, his two daughters, Elizabeth A. and Catherine M. Hien at home, three sons, Charles L. Hien and his wife Stacy M. of Lincoln, Randall C. Hien, Jr. at home, and Jason Gagnon of Lincoln, two step-sons, John E. and Kevin S. Greene both at home, one sister Paula Gautieri and her husband John of Cranston, two brothers, Brian A. Hien and his wife Vicky of Narragansett, and Scott W. Hien and his wife Nancy of Barrington, one grandchild Haley S. Hien, and niece Lauren A. Giusti of Florida.
- above information written by Paul Fernandes with help from Patti A. Hien. and Tom Bousquet WHJY - Thank you Patti! & Tom
Some of the links in honor of Randy
The 7th Annual Randy Hien Tournament information is now available for 2013.
Click here to view the rosters and game schedule.
---
Click
here
to
view some wonderful pictures of Randy, taken in the summer of 2006 by Dave Pickering.
---
Click
here
to view Randy Hien's Obituary.
Summary of Fundraising Efforts to Benefit the Hien Family:
--Contributions to the Randy Hien Memorial Fund can be made at any Citizens Bank branch.

--Contributions in the memory to Randy Hien can be made at any branch of The Bank of America c/o Randall C. Hien, Jr.

--Coastway Credit Union's Lincoln branch is collecting donations to support the Hien Family. To make a contribution, please visit the branch at 210 Front Street.
---
Article on the life and death of Randy Hien:
From 9/29/06

Click
here
to view the excellent Providence Phoenix article (many comments from the musician community)
The above information was borrowed with kindness from the Little League Network
http://www.eteamz.com/lincolnlittleleague/news/index.cfm?cat=271993
Article on the Randy Hien Field:
From 7/20/12
Click here to read an article called "It's your time to shine" from the Pawtucket Times